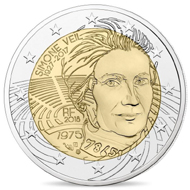 [bsa_pro_ad_space id=4]
August 30, 2018 – France has issued a new 2 euro commemorative coin in proof version dedicated to lawyer and politician Simone Veil. It depicts a portrait of her, the European Parliament, key dates, name, as well as her deportation registration number.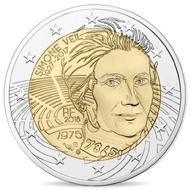 The new French 2 euro commemorative coin dedicated to Simone Veil.
Simone Veil was born into a non-observant Jewish family in Nice on July 13, 1927. During the time of the occupation, Veil and her family were arrested by German authorities. Veil, her mother, and one sister were then deported to Auschwitz-Birkenau. They were later transferred to Bergen-Belsen. Veil and her two sisters were the only survivors of their family.
After the war had ended and she had graduated from university with a law degree, Veil passed the exam to become magistrate and spent several years practicing law. From 1974 to 1979, she advanced to Minister of Health under Valery Giscard D'Estaing's presidency. She pushed forward the very decisive law, namely legalizing abortion in France (voted in 1974 and applied in 1975). This was the hard political fight for which she is best known.
Among other things, Veil served as President of the European Parliament. Image: Rob C. Croes / CC BY-SA 3.0.
In 1979, Veil became a Member of the European Parliament. The new parliament then elected her as the first female president, and she served until 1982. In March of 1993, Veil returned to the French government and once again served as Minister of Health in the government of Prime Minister Édouard Balladur.?She was also a member of the Constitutional Council of France from March of 1998 until March of 2007.
Beside her dedication to politics, Simone Veil served as the first president of the Fondation pour la Mémoire de la Shoah, from 2000 to 2007, and subsequently as its honorary president.
For more information on this commemorative coin, please visit the Monnaie de Paris website.
Simone Veil was honored with a burial at the Panthéon in July of 2018. The secular mausoleum is the final resting place for France's most important citizens.
If you want to know more about the Fondation pour la Mémoire de la Shoah, here is the link.