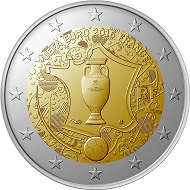 [bsa_pro_ad_space id=4]
January 28, 2016 – UEFA 2016 will be hosted by France. In order to celebrate this important sport event France will issue 2 euro commemorative coins and collector coins on 8 February 2016.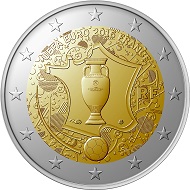 The new 2 euro commemorative coin's obverse. The reverse will bear the design common to all 2 euro coins.
The obverse represents the Henri-Delaunay cup in the centre of a map of France. It is accompanied by Monnaie de Paris' 2 mintmarks. On the right side, stands the mention RF for République Française. On the top of the coin, France is like crowned by the name of the competition 'UEFA EURO 2016 FRANCE'. On the lower part, a ball springs to the first plan. The whole design has a background of graphic elements representing the competition.
Besides the coin in circulated quality, 10,000 coins will be minted in proof and BU each.
Collector coins will be minted at the same time.
The 10 euro silver coin: France / 10 euro / 16 mm / 17g Fineness Ag 333 / Mintage: 250,000.
Both 10 euro silver and 100 euro gold face value coins are presenting the same drawing. The obverse depicts the legs of a football player about to kick the ball. On the right stands the competition's logo. The lower part of the coin bears the year surrounded by the mintmarks in a space delimited by grass.
The 100 euro gold coin: France / 100 euro / 16 mm / 1.8g Fineness Au 999 / Mintage: 50,000.
The reverse bears the face value of 10 euro or 100 euro surrounded by branches of oak and laurel evoking the Euro sign. The whole motive is framed by traits representing an Hexagon.
For more information on these issues go to the Monnaie de Paris website.
All information about the forthcoming sport event is available from the official UEFA website.