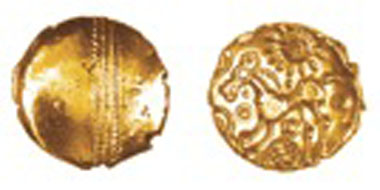 [bsa_pro_ad_space id=4]
by Chris Rudd
February 9, 2012 – Four ancient British coins of the highest rarity have recently been unearthed by metal detectorists, confirming yet again the considerable contribution made by metal detecting to iron age numismatics.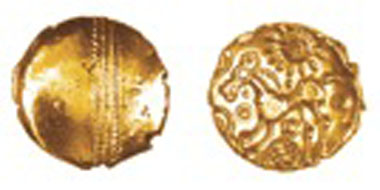 Regini gold quarter stater, c. 50-40 BC.Unique.
The first is a gold quarter stater of the Regini, unpublished and unique, from northeast Hampshire.
Eppillus gold quarter stater, c. AD 1-15. Only one other.
The second is a Cantian gold quarter stater of Eppillus 'little horse' from north Kent.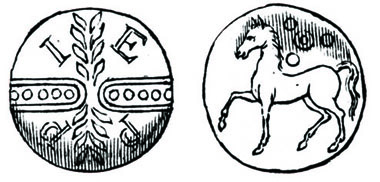 British Museum's coin, drawn by W.Stukeley, 1776.
The only other one known, in the British Museum, was discovered over two hundred years ago and drawn by the self-styled 'Arch Druid', Rev. William Stukeley.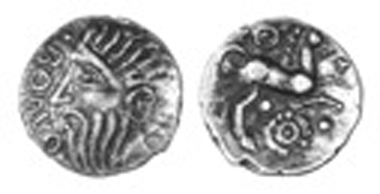 Boduoc silver unit, c. 25-5 BC. Only one other.
The third is a Dobunnic silver unit of Boduoc 'battle-crow' with a bearded head, only one other recorded.
Agr bronze unit, c. AD 35-43. Unique.
The fourth great rarity is a bronze unit of Agr – the first discovered – from near Basingstoke, Hampshire.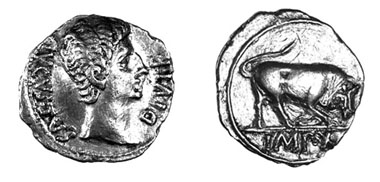 Agr coin copied from silver denarius of Augustus?
Agr, which may be short for Agricu 'war-dog', was perhaps a son of Cunobelin and ruled shortly before the Roman invasion of AD 43. All four coins will be sold by auction in Aylsham, the first three in May, the fourth in July.
More information on auctions by Chris Rudd you will find on his website.