[bsa_pro_ad_space id=4]
February 23, 2017 – On January 17, 2017 former President Barack Obama received official bronze medals depicting each of his two terms in office. During a brief ceremony in the Oval Office, Secretary of the Treasury Jack Lew, Deputy Secretary Sarah Bloom Raskin and U.S. Mint Principal Deputy Director Rhett Jeppson presented medals featuring the former president's portrait on the obverse (heads side) and portions of memorable speeches delivered during his presidency on the reverse side.
Presidential medal "Barack Obama (First Term) Bronze Medal 3inch". Photo: U.S. Mint.
"It has been a privilege to serve President Obama over these last eight years and to have witnessed his leadership up close," Secretary Lew said. "His historic presidency has improved the lives of millions of Americans and the medals presented today are just one way that his legacy will be honored."
Presidential medal "Barack Obama (Second Term) Bronze Medal 3inch". Photo: U.S. Mint.
Presidential medals represent a custom of honoring each president of the United States with an official medal for each term in office. Presidents who serve more than one term are traditionally honored with two medals, one highlighting each of their terms. Since the 1960s, with the exception of Ronald Reagan, all presidents who served more than one term have received two medals. Each medal measures three inches in diameter and weighs approximately nine ounces.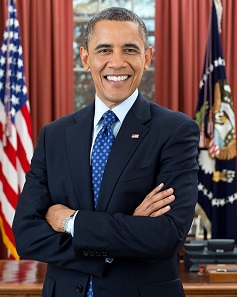 Former U.S. President Back Obama's official photograph in the Oval Office on December 6, 2012. Photo: Official White House Photo by Pete Souza / Wikipedia.
"The medals presented to President Obama ensure that a long-standing tradition of honoring our presidents remains unbroken," said Jeppson. "Designed, sculpted and struck by the men and women of the U.S. Mint, the medals institutionalize his legacy in a tangible and historical form alongside those leaders who preceded him – from Washington to present."
Also participating in the ceremony were Elisa Basnight, Chief of Staff of the Mint; Don Everhart, lead sculptor of the Mint; and Phebe Hemphill, Mint medallic artist. Everhart sculpted the reverse of the first term medal and designed and sculpted both the obverse and reverse of the medal honoring the president's second term. Hemphill sculpted the obverse of the first term medal.
As with other presidential medals, bronze replicas are available to the public.
For more information, please visit the U.S. Mint website.
To access the official website of The Office of Barack and Michelle Obama, please click here.
And on YouTube, you can watch Barack Obama's full inauguration speech 2009.