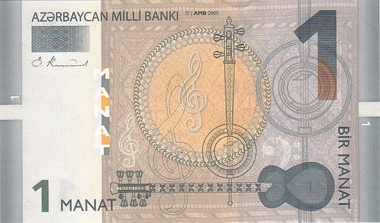 [bsa_pro_ad_space id=4]
February 25, 2014 – Since 14th February 2014, nine former authorised agents of the OeBN (Österreichische Nationalbank), the OeBS (Österreichische Banknoten- und Sicherheitsdruckerei) and the Austrian Mint have been on trial in Vienna.
Among the defendants are the National Bank's former vice-governor Wolfgang Duchatczek, two former CEOs of the OeBS, Michael Wolf and Johannes Miller, as well as former Austrian Mint CEO, Kurt Meyer. They are charged with formation of a criminal association, embezzlement, bribery and money laundering. While Michael Wolf admitted to the charges laid against him – he said that after losing money in a business deal in Singapore he had been under a lot of pressure and that he had wanted to save workplaces – Duchatczek, Meyer und Miller are going to plead not guilty.
New banknote series from Azerbaijan. Photo: Wikipedia.
On day one of the hearing, the State Attorney exposed that local decision-makers had been bribed. More specifically, the transaction in question is a business deal with Azerbaijan for which new banknotes had been delivered. According to the State Attorney, those responsible agreed to increase the original offer by 20%, so that the extra money would be returned to the decision-makers in Baku, in order to win the offer. Two attorneys and an OeBS employee then arranged payments using a letterbox company in Panama to cover up the bribe. The attorneys, also under charges, received a 4% provision for their services. The State Attorney could not help an ironic comment when he heard which pseudonym the liaison officer in Panama had been using: "So, you, a 100% subsidiary of the National Bank, are in business with a Tigerlilly?"
The criminal defence lawyer of one of the involved attorneys had a different take on the situation: "The state of Azerbaijan may do with its money as it pleases." After all, he argued, the transaction had not had any negative consequences for Austrian tax payers.
Syria's new banknote series. Photo: Banana Van Mod / Wikipedia.
A similar deal was concluded with the Central Bank of Syria although the Syrian Bank demanded an additional charge of only 14%. Altogether, 14 million Euro bribe money had changed hands and 3.7 million Euro federal income taxes had been withheld in the process.
All three institutions – the OeBN, the OeBS and the Austrian Mint – are joint plaintiffs in the trial. They consider themselves injured parties whose reputation was severely damaged by the doings of their former executives. However, the OeBS and the Austrian Mint take on double roles here, as injured party and as defendant, because both institutions are being held responsible for the actions of their former employees by the State Attorney in the legal sense according to the Austrian "Verbandsverantwortlichkeitsgesetz".
Judge Geord Olschak has scheduled 17 hearing days. Should he pass the maximum sentence, the defendants are facing up to ten years of imprisonment.
Further news articles about the trial by Reuters, the Vienna Times and Bloomberg News.