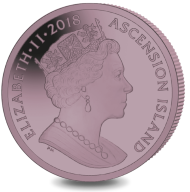 [bsa_pro_ad_space id=4]
October 18, 2018 – Pobjoy has released the first titanium coin issued on behalf of Ascension Island. The design on the coin shows several of the Ascension Shrimp swimming in a rock pool. Titanium reacts differently with every strike, so each Titanium Shrimp coin is technically different and varies slightly in colour. There is also a lined effect that is present on the coins which is unique to this metal. The obverse features the Pobjoy exclusive effigy design of HM Queen Elizabeth II in exceptional detail. The coin is also available in uncirculated cupro nickel.
Ascension Island / 1 crown / pink titanium / 28.28 g / 36.10 mm / Mintage: 7.500.
Endemic to only two small rock pools on Ascension Island, Procaris ascensionis is a species of shrimp which is in an extremely susceptible position. The two coastal rock pools in which this species can be found are set well inland past the high tide mark but it is possible that the pools can underground connections with the ocean. The larger of the two pools is only around 4.5 meters in diameter and only around 46cm in depth and has a rocky bottom covered with clay.
The smallest shrimps are thought to spend most of the time hidden amongst the algae and crevices of the pool, but the larger shrimps spend more time in the open water. This species of shrimp is predatory with specialised appendages which help to trap its prey and the species is more than likely blind.
For more information on this coin visit the British Pobjoy Mint website.
You can learn more about this rare type of shrimp on the Wildscreen Arkive website.
Richard Hughes has published a video on where you can see the Procaris ascensionis in a rock pool on Ascension Island.