[bsa_pro_ad_space id=4]
September 19, 2013 – When Barry Clifford found a shipwreck in 1984 right off Cape Cod he actually detected the first documented pirate shipwreck. The Whydah, as the ship was called, was originally an English slave ship later employed as flagship of the pirate 'Black Sam' Bellamy. In 1717 Bellamy died in a storm when the Whydah sunk with all men on board except two. But the ship was also full of rich plunder.
The Whydah is full of coins. Photo: Theodore Scott / http://creativecommons.org/licenses/by/2.0/deed.en
Since 1984 Clifford has found thousands of artefacts among which over 10,000 coins. On September 1 this year Clifford led an expedition 1,500 feet off the coast for three days. A diver brought back a bag as heavy as he could lift full of metal. X-rays revealed masses of gold and coins.
Model of the Whydah. Photo: jjsala / http://creativecommons.org/licenses/by/2.0/deed.en
Only recently a historical document indicated that Bellamy had captured many more ships than previously known just before his death. Around 400,000 coins are supposed to be buried in the shipwreck.
Clifford said: 'This is like a Hansel and Gretel thing: We're following the clues; we're following the breadcrumbs. But in this case it's gold doubloons and pieces of gold.'
Although Clifford gave two coins to Daniel Frank Sedwick LLC who sold one of them for about $11,400, Clifford said he could never sell the coins of the Whydah. 'It's a treasure trove of history,' he explained. 'This is the only documented pirate treasure that's ever been discovered.'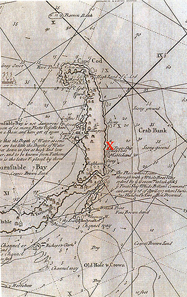 A map of the shipwreck's location drawn by Captain Cyprian Southack sent to the site after the storm in order to recover the plunder. He did not find the treasure but buried over 100 of the dead pirates.
Work on the site is difficult because it is located right on the edge of the surf zone where Clifford needs seven anchors to hold his boat steady.
In Provinceton, Mass., many of the discovered objects are on display at the Whydah Pirate Shipwreck Museum.
ABC News published an article on that topic recently.
Here you can find a chronology of the project's history.
All information about the project and the museum gives Clifford's Whydah Gally website.