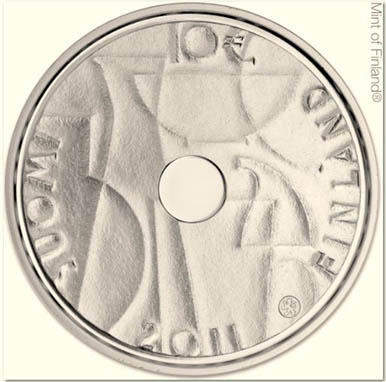 [bsa_pro_ad_space id=4]
February 3rd, 2011 – The Mint of Finland has the honour to announce the first commemorative coins of the year in memory of two great Finns. In doing so, it also pays homage to Finnish design and science. Master of Finnish design Kaj Franck and the most famous Finnish representative of the enlightenment, Pehr Kalm, will both be honoured with commemorative coins on 28 January 2011. The Mint of Finland begins its new season with the striking of commemorative coins in honour of the designer Kaj Franck and the natural scientist Pehr Kalm. 'Finnish designers and scientists today are highly regarded around the world. With these commemorative coins we want to honour both Franck and Kalm who were international pioneers in the fields of Finnish design and science,' explains Paul Gustafsson, CEO of the Mint of Finland.
Finland. "Kaj Franck". 10 EUR. Ag 925. 38.6 mm. 25.5 g. Designer: Reijo Paavilainen. Mintage: Proof 10 000, BU 5000.
This year marks 100 years since the birth of the design legend Kaj Franck. The Mint of Finland is marking this with its Kaj Franck and Industrial Art commemorative coin. The company is offering this coin, designed by sculptor Reijo Paavilainen, in an Iittala glass Vitriini case. The commemorative coin packaged in a Vitriini case represents a piece of interior design that pays homage to Finnish work and art.
Finland. "Pehr Kalm". 10 €. Ag 925. 33 mm. 17.0 g. Designer: Erkki Vainio. Mintage: Proof 14 000, BU 6 000.
Finnish scientific study is being honoured with this commemorative coin named after the Finnish natural scientist Pehr Kalm. One of the 'apostles' of Carl Linnaeus, Pehr Kalm, explored North America and was the first in the world to write a scientific account of the Niagara Falls. Kalm brought back from the New World hundreds of new plant species and the state flower of Pennsylvania and Connecticut, Kalmia latifolia, is named after him. The Pehr Kalm and European Explorers commemorative coin is the Nordic entry in the official European mint joint commemorative coin program. All participants in the European Silver Star program will strike a euro coin to commemorate great explorers. They will feature this program's star insignia.
If you want to know more about the Finnish mint, click here.
To learn more about the great designer Kaj Franck, click here.
To learn more about the flower Kalmia latifolia, click here.