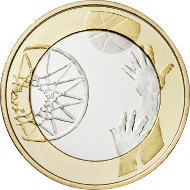 [bsa_pro_ad_space id=4]
August 27, 2015 – On 24 August Mint of Finland released a collector coin paying tribute to basketball. The coin commemorating basketball is part of the coin series struck by Mint of Finland by decision of the Ministry of Finance in tribute to the sports loved by Finnish people. The nominal value of the collector coins is confirmed as five euros in a decree of the Ministry of Finance.
Finland / 5 euros / 9.8 g / 27.25 mm / Design: Nora Tapper / Mintage: 50,000 (UNC), 10,000 (proof).
A total of nine coins paying tribute to different sports are slated for release in the Sports Coins series in which the first coin, celebrating Gymnastics, has already been released. In addition to basketball, figure skating and volleyball will receive their collector coins in 2015.
Finnish basketball is currently experiencing a boom, largely due to the good performances of the men's national team, Susijengi (Wolf Team). "It has been fantastic to witness the boost brought to basketball by the success of the Wolf Team and their conspicuous group of fans. I believe that the basketball coins will be a popular collector's item for coin collectors and basketball aficionados both," says Mint of Finland's Communications Director Henna Karjalainen.
The maximum mintages of the base-metal basketball coins with a nominal value of EUR 5 will be 50,000 UNC-quality coins and 10,000 proof-quality coins. Collector coins have a diameter of 27.25 millimetres and weigh 9.8 grammes. The Sports Coins are designed by Nora Tapper.
Proof-quality, polished collector coins are offered in protective transparent cases set in a cardboard package with a fresh new look. The Mint of Finland online shop will accept advance orders for Basketball collector coins from 10 August. The collector coin will be available from the online shop and Mint of Finland's retailers from the release date of 24 August.
Here you can find the Mint of Finland website.
The Decree of the Ministry of Finance on the sports coins is available here (in Finnish).
Here you can see Susijengi "in action"!