[bsa_pro_ad_space id=4]
Written by Björn Schöpe
Translated by Leonie Schulze
February 28, 2019 – Elementary school children are becoming more and more materialistic and spend their money instead of saving it. This was the result of a study conducted by the University of Vienna with financial support of the Austrian Mint. Christiane Spiel's team of the university's psychology department has now presented the central results of the unpublished study.
Grown-ups need to know how to keep their personal finances under control, yet our schools hardly ever teach our children how that is done.
Why was a study on pocket money necessary?
Studies show us that the accumulation of debt among the youth is increasing in Austria. And everyone is well aware that financial education is an important aspect of economic stability. The University of Vienna started with an initial evaluation.
After having interviewed students, teachers and principals at two schools in Vienna, the researchers went on to question 2,174 students all over the country about pocket money and financial education. The results revealed a fundamental problem: although children and teenagers do talk with their parents about finances and saving money, they hardly ever do so at school: students at the Gymnasium (university-preparatory secondary education) rated financial education at school a 2.6 on a 1 (not at all) to 5 (absolutely) scale. According to students at the Neue Mittelschule (lower secondary education), it is not an issue that is addressed in lessons very often either (2.8).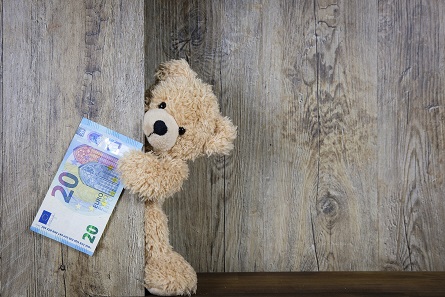 To ensure that young people do not remain children forever when it comes to money, adults have to introduce the topic at a reasonable rate.
Pocket money does not match recommendations
But how much money do students have today anyway? As for so many other things, there is a formula that can be used to calculate the adequate amount of pocket money. Experts recommend that six to twelve-year-olds receive 30 to 50 cents multiplied by their age per week. Teenagers (age 13 to 19) should get a weekly allowance of 2 to 3.60 euros multiplied by their age. Hence, first-graders should have a weekly allowance of about 1.50 to 2 euros. De facto, hardly any parents follow these recommendations.
43% of children get pocket money once a month, one in four receives it once a week. Only about 4% are handed money on a daily basis – and an impressive amount of it at that, namely 5 euros! Those with weekly allowances get a total of 40 euros a month as opposed to the 20 euros children receive if they are given money once a month.
Depending on the frequency, it appears as though parents either hand their children too much or too little money. As a result, they do not have the recommended amount of money at their disposal that would enable them to learn how to properly handle money. According to experts, however, irregular allowances or cutting them as a form of punishment is even worse. Either case makes it impossible for children to get a grasp on how to budget with a regularly received amount of money.
Fast food, candy and the movies – this is what children like to spend their money on.
Food and the cinema
53.9% of children and teenagers spend their money on food – but the survey showed that they preferably spend it on snacks and fast food as opposed to fruit and vegetables. 46.2 % of the interviewees said they spend their allowances on candy. The movies and other adventures with friends were also very popular (48.7%).
The fact that boys tend to purchase video games and sports items and girls prefer to buy clothes, presents and room décor is in keeping with widespread clichés. In addition, Gymnasium students tend to save more money (400 euros) than their colleagues at the Neue Mittelschule (152 euros). Girls tend to be more frugal than boys and rural children preserve their money better than kids of the same age that grow up in cities. But this should not hide the fact that the awareness decreases across the board the older the children get. On a scale from 1 (not at all) to 5 (a lot), first-graders save more than money (3.5) than children who are three years older (3.1). In this same time span, money also becomes more important to them. The attitude of ten-year-olds may well be summarized as: we want to have it, but we don't want to save it.
Money is not something that is often talked about in school.
School education
Math, geography and social learning – those are subjects where financial education might be addressed. However, at no type of secondary school do teachers adequately prepare their students for life. At least that is how the students themselves see it (Gymnasium: 2.6 of 5 points, Neue Mittelschule: 2.8 of 5 points).
By contrast, three out of four parents do in fact talk about finances with their children and children approach their parents with respective questions equally often. But only half of the parents actually ask their offspring what they spend their allowances on and explains to them what their family uses money for.
Both conscious consumption and proactive saving are part of responsibly handling money.
The accumulation of debt
The result of this negligent approach to financial questions is the accumulation of debt of young people. The research group's head, Christiane Spiel, noted that 71% of the interviewed students had borrowed money from someone before. And that money is not always paid back. Only 47% of them pay back their parents, 61% of them always pay their friends what they owe them.
After the study results were presented, the director general of the Austrian Mint, Gerhard Starsich, concluded that because everyone wanted to protect children, many parents also attempted to take off any burden of their shoulders. Yet, he also pointed out that it was never too early to start teaching our kids about money. Just as they learn how to read and write, children should also acquire financial literacy. Starsich called for financial education to become a standard in every child's upbringing.
The Austrian Mint offers an abundance of lesson plans and teaching material on their website to help teachers approach the topic of money and finances in lessons. The material is only available in German.
The British government added personal finance into the national curriculum in 2014. Young Money provides lesson planning resources for teachers looking to talk about money with their students.
The U.S. Treasury has established a Financial Literacy and Education Commission who runs the MyMoney website with games for children and lesson material for teachers.