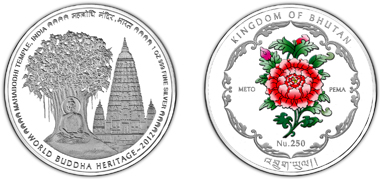 [bsa_pro_ad_space id=4]
January 10, 2013 – The Royal Monetary Authority of Bhutan continues with the fifth edition of its highly sought-after World Buddha Heritage eight coin programme with the latest issue of the Mahabodhi Temple of India coins. Exclusively minted and marketed by The Singapore Mint, these collectible masterpieces pay homage to Siddhartha Gautama The Buddha, featuring the site where he is believed to have attained enlightenment.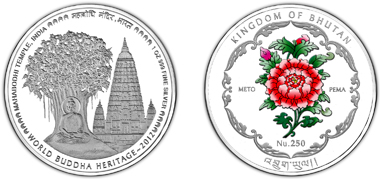 Bhutan / 250 BTN / 1oz silver .999 / 40.70 mm / Mintage: 10,000.
This fifth instalment of the World Buddha Heritage series is one that is close to Buddhists' hearts. In remembrance of the Enlightenment of Buddha, the obverse of the coins feature The Buddha seated beneath the Bodhi Tree at the Mahabodhi Temple in Bodh Gaya, India.
The temple marks the site where The Buddha engaged in profound meditation, removing the final veils of ignorance and attaining the supreme and perfect insight. Today, the Mahabodhi Temple is a UNESCO World Heritage Site where hundreds flock to worship and learn about the life of The Buddha.
The reverse of the coins feature the Meto Pema (lotus). The lotus is one of the most poignant representations of Buddhism, symbolising the complete purification of body, speech and mind.
The Mahabodhi temple in Bodhgaya, India. Two monks are meditating in front of it. The tree under which the Buddha attained enlightenment is on the left, behind the monks. This temple is the number 1 pilgrimage site of Buddhism in the world. Photo: Wikipedia / http://creativecommons.org/licenses/by-sa/2.5/deed.en.
The World Buddha Heritage eight coin programme highlights the spread of the different schools of Buddhism throughout the different regions of the world. Each coin honours a renowned Buddha sculpture or monument found in the featured country. The unique and unconventional designs showcase the Buddha statue or Buddhist monument with its name and country of origin inscribed on the obverse. The reverse is a nod to its country of issue, the Kingdom of Bhutan, with each coin featuring one of the eight auspicious Buddhist symbols including the Parasol, Golden Fish, Treasure Vase, Lotus, Conch, Infinity Knot, Dharma Wheel and Victory Flag.
The first four instalments of the World Buddha Heritage coin programme featured the Four Face Buddha of the Bayon Temple in Cambodia, Seokguram Grotto in South Korea, Wat Pho, The Temple of the Reclining Buddha of Thailand and the Leshan Giant Buddha Statue of China.
Bhutan / 1,000 BTN / 1/4oz 999 gold / 21.96 mm / Mintage: 6,000.
The Mahabodhi Temple of India coins are available in silver and gold with limited mintages of 10,000 and 6,000 pieces, respectively. The coloured Nu. 250 coins are minted in 999 Fine Silver. The non-coloured Nu. 1,000 coins are minted in 999.9 Fine Gold.
For more information on this series, please visit the website of The Singapore Mint.
This is the official website of the Mahabodhi Temple.
A video clip may give you some idea of this impressive site.