[bsa_pro_ad_space id=4]
Fall Auction at Emporium Hamburg
From November 12 to 14, 2019, the Numismatic Department of the Emporium Hamburg organizes the 87th Coin and Medal Auction, as well as the Banknote Fall Auction No. 88. The auction starts on all three days from 8:30. Also at these auctions you have the opportunity to bid on the internet live on the lots.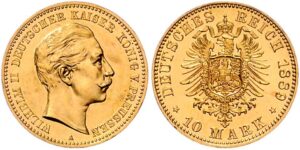 Auction 87
In auction 87 you will find a wide range of coins and medals from antiquity to the present with a total of over 2900 lots. This year's autumn auction offers a wide range of high-quality antique coins with over 620 lots, a colorful selection of foreign and German States mintings, including numerous gold coins and an exquisite selection of coins from the German Empire – here you will find numerous rare gold coins in above-average condition.
The first two auction days are reserved as usual for antique and foreign coins as well as medals (numbers 1-2817). Among the first highlights of this auction are the Greek coins of the Sicilian city of Syracuse (No.35-52), including 20 litrai from the late 5th century BC. (No. 35) and a decadrachm from the 4th century BC. (No. 36). The Greek mainland shines with stater and tetradrachm from Macedonia, as well as large tetradrachms in magnificent preservation from Thrace. This illustrates the wonderful and magnificently centered tetradrachm of the city Apollonia Pontika (No.79) from the 4th century BC. And the shapely stater from Olbia of the consul M. Junius Brutus (No.90) from the 1st century BC. Chr. also immediately catches the eye.
From lot 250 you will find the interesting offer of Roman coins. Here is started with qualitatively prominent denarii of the republic (No. 250-271), under which the denarius of P. Sepullius Macer (No. 261) demands special attention. Then follow the coins of the Roman emperors until the end of the 5th century (No. 272-558). Numerous favorably valued single positions, interesting lots and rare rulers like the very rare aureus of Galerius (No. 492), as well as other emperors of the late Roman era are slammed here.
After the Byzantine coins (No. 559-600), including numerous bowl-shaped gold coins and silver coins, another highlight of the first day of the auction follows: the coins of the Migration Period (No. 602-622). The rare Tremissis of the Visigoth King Leovigild (No.606) should not be missing in any late antique coin collection! From the ancient coins we come now to the extensive part of the foreign coins and medals from Afghanistan to Zimbabwe (No. 623-1488) with numerous favorably estimated lots, single pieces and gold coins from Europe and overseas. Focal points can be found in the area of American coinage of Argentina (No.649-650), via Bolivia (No.675-682), Brazil (No.683-686), Chile (No.694-696), Guatemala (No. 902-903), Colombia (No.1041-1046), Mexico (No.1074-1086) to the USA (No. 1392-1482). Straight from the US, coins from the ½ cent to the colonial coins or Hawaii, from 1800 to modern times, go under the hammer in every price range. In addition to the American continent, European territories also promise extensive bidding wars.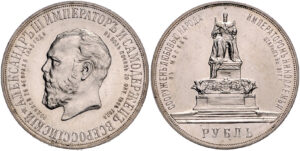 Russia (No.1166-1230) inspires with rare and above-average preserved gold and silver rubles of Peter I. (1689-1725) No. 1166, Catherine II (1762-1796) No. 1180, Paul I. (1796- 1801) and Alexander II (1855-1881) No. 1220. An absolute highlight is certainly Lot 1226, a very rare ruble from the USSR, minted in 1922 in St. Petersburg (vf-ef; EP 4.500, -). The same applies to the English or British character (No.852-901). In addition to golden sovereigns encounter numerous small coins in interesting preservation from the 10th to the 19th century, but also a Rosennoble o.J. from Henry V. (1413-1422) or lot 898, a rare almost in Proof received 5 Pounds 1911 by Georg V. (SP 5.600, -), as well as a Sovereign 1937 Georg VI. (1936-1952) (No. 900) in Proof complete the offer of foreign coins and medals.
Even before the start of the German States section of the 87th Auction, this auction offers the usual colorful selection of different coinage under "Thematic Medals" (No.1489-1700).
Whether politicians, animal motifs or medals by Goetz – everything is represented.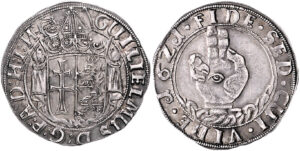 After the Thematic Medals and the medieval mintings (No. 1701-1702), among them a very rare AR Sceatta from the 8th century. (No.1702), the Habsburg and German States coins to the silver coins of the Empire in the center (No. 1703-2395). Under the hammer come f.ex.an almost excellently preserved Doppelfriedrichs d'or 1765 A (No. 1852) as well as an exquisite and uniquely beautiful deer ducat from the house of Hessen-Darmstadt (No.2041). An absolute top highlight of this year's fall auction is certainly the very rare 1/2 Reichstaler from 1621 from the Abbey Hersfeld (EP: 11,000, – No.2038).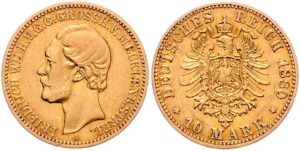 The same qualities and rarities are found among the silver coins of the German Empire (No.2393-2491), u. a. 3 Mark 1915 A, Lüneburg, Ernst August (No.2414, J.55) to take office, as well as among the gold coins of this interesting period of German history (No.2492-2643). In the area of gold coins are numerous rarities, such as Mecklenburg-Strelitz, 10 Mark 1880 A (No.2566, J.237), 10 Mark 1905 A (No.2557, J.239), a fine specimen from Prussia in Proof, 10 Mark 1889 A (No.2570, J.249) or Reuss-Younger Line, Henry XIV (1867-1913), 20 Mark 1881 A (No.2585, J.256).
After the coins of the Weimar Republic (No. 2606-2690), including a magnificent copy of the 5 Reichsmark of 1933 (No. 2643; J.331), and the editions of the Third Reich (No. 2691- 2704), follow the dependencies ( No. 2707-2742) with u. a. Gdansk 25 gulden 1923 (No. 2709) and 15 rupees 1916 Tabora (No. 2740ff., Both variants) as well as numerous NGC and PCGS evaluated uncirculated small coins from German New Guinea and German East Africa.
The coins of the Federal Republic and the GDR (No.2755-2817) as well as samples and Varia complete the catalog with numerous interesting embossing variants as well as an extremely rare unique of a Vereinsthalers (No.2832) from Prussia in excellent condition.
Auction 88
This is followed on the last auction day by the banknotes-fall auction no. 88, which is over 400 lots, the last one this year. It contains many rare bills, lots of well-priced lots, and will surely provide a perfect opportunity for any collector to complete or enhance the collection. Of course you can expect a fine and remarkably diverse mix of different areas. In total, more than 400 lots will come under the hammer and you as a collector of paper and emergency money will get their money's worth. Look forward to an exciting auction day with us. Of special note deserves the title piece (No. 4072) Austrian National Bank, 100 shillings from 2.1.1936. In addition there are 2x 20 Reichsmark from 16.6.1936 and (No. 4184) 50 Deutsche Mark o.D. Are you looking for international banknotes?! Additional highlights are: (No. 4081) 5 Pesos ND from Puerto Rico in Conservation I-II and (No. 4010) 1 Kuan (1368-1399) of the First Emperor of the Ming Dynasty (1368-1644) T' ai tsu. This extraordinary range of World Banknotes, especially from Africa, Asia and South America, as well as very rare individual pieces from all over the world, make collectors' hearts beat faster.
For catalog orders and questions please do not hesitate to contact the team of the numismatic department of Emporium Hamburg by phone, e-mail or fax.
Emporium Hamburg, Department of Numismatics, Süderstraße 288, 20537 Hamburg. Phone: +4940/25799140, Fax: +4940/25799100, E-Mail:
Further information are available on the website of Emporium Hamburg.
There you can also browse through the online auction catalogue.