[bsa_pro_ad_space id=4]
by Henry Flynn
April 13, 2017 – The numismatic collection at the Grosvenor Museum in Chester is a particularly strong one and a longstanding ambition of theirs to put more of it on display came to fruition in 2016. The resulting exhibition had been planned for a long time and was developed with the help and support of Museum Development North West.
The introductory panel from the exhibition, explaining its origins and concepts. Photo: Henry Flynn.
The exhibition, 'Minted: Making Money and Meaning', took a thematic approach to numismatics and utilised a wide range of coins from many different periods. Without focusing on one period or type of coinage, the exhibition sought to challenge people's perceptions of money itself and encouraged them to think about the change in their own pockets in new ways.
Minted: Making Money and Meaning in the Grosvenor Museum's temporary exhibition space. Photo: Henry Flynn.
The exhibition explored portraiture, inscriptions, propaganda and hoarding, as well as the process of making coins, in every case making good use of the Grosvenor's own collection. A nice touch was the inclusion of modern coins in a number of showcases, in an effort to draw parallels with recent events and concepts, thereby lending the exhibition a relevant and contemporary feel.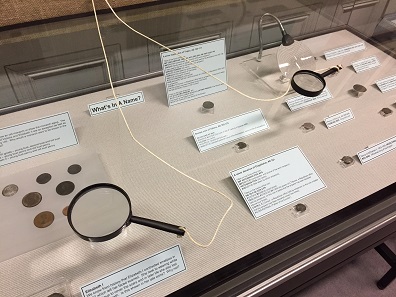 The exhibition used many techniques to make the objects more visible, including the provision of magnifying glasses. Photo: Henry Flynn.
Numismatic objects are famously challenging to display in ways that make them engaging to the public and have the added hindrance of being small and tricky to see. Pleasingly, this exhibition made successful attempts to make the subject matter appealing to visitors of all ages through the use of a number of innovations. The coins themselves were displayed lying flat in table cases. This allowed the visitor to lean over see the objects fairly closely. This was enhanced through the provision of magnifying glasses, firmly attached to the showcases to prevent any from going missing! Younger audiences were also catered for through the use of simple but effective interactive features – these included a stand for coin rubbings, the provision of paper and pencils so children (of all ages) could design their own coins, and a dressing up box so people could pose as a portrait image on a coin. I have to confess that, when no one was looking, I gave this a go!
One particular innovation that really helped to bring the subject to life was the use of photography. Professional photos were taken of members of the public who had had their hair styled to emulate various portraits on coins. These recreated hairstyles were displayed prominently in roundels next to images of the specific coins they were intended to imitate.
The exhibition closed in October 2016 but has proven to be such a success with visitors to the Grosvenor that elements of it have now been incorporated into the museum's permanent displays. This means that this engaging, innovative and genuinely thought-provoking approach to numismatics can continue to be enjoyed for years to come.
Here is a slideshow of images from the exhibition:
Penny of Coenwulf, the earliest Anglo Saxon coin in the Grosvenor's collection. Photo: Henry Flynn.
The exhibition made numismatics accessible to younger visitors through the use of fun features such as coin rubbing. Photo: Henry Flynn.
Younger visitors could also draw designs for their own coins. Photo: Henry Flynn.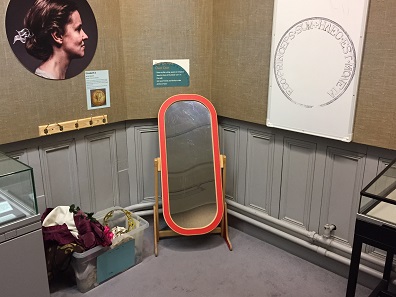 An opportunity for visitors to the exhibition to appear on a coin… Photo: Henry Flynn.
Innovative use of modern photography to recreate hairstyles depicted on coins. Photo: Henry Flynn.
Recreation of a portrait bust of Diocletian next to an image of the coin that inspired it. Photo: Henry Flynn.
The thematic exhibition included a section on coin hoards. Photo: Henry Flynn.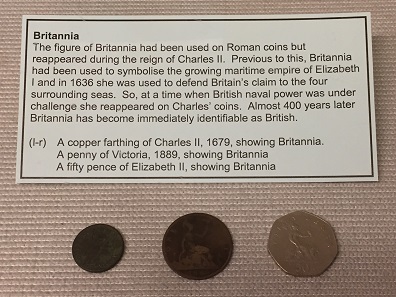 An example of the many links made between the ancient and modern periods using coinage, in this case the depiction of Britannia. Photo: Henry Flynn.
This is the website of the Grosvenor Museum.