[bsa_pro_ad_space id=4]
October 6, 2016 – The EVOLUTION OF LIFE series, designed for Mongolia by Coin Invest Trust, dedicates its second issue to the trilobites. The silver edition shows the trilobite in impressive relief height thanks to smartminting© technology.
Mongolia / 500 Togrog / 1oz. . 999 silver / 38.61 mm / Design: Coin Invest Trust / Mintage: 999.
The obverse shows the coat of arms of the issuing nation and the nominal value below. The inscription on the bottom names weight and fine content and, in the silver edition, the name of the issuing nation.
The high-relief reverse depicts a Trilobite of the species Cheirurus ingricus, complete with a red-gold finish on the silver edition. Apart from the year of issue, the silver edition also features the inscriptions evolution of life as well as TRilobita and ordovician period, and evolution and trilobite respectively on the gold coin.
A fossil Cheirurus ingricus on display in the Sant Hall of Oceans in the Smithsonian Museum of Natural History. This specimen was discovered in 1845 in in Russia. Photo: Tim Evanson / https://creativecommons.org/licenses/by-sa/2.0/deed.de
Trilobites
At all times in the Palaeozoic Era, the speciose trilobites populated all of the Earth's oceans. The trilobite depicted on this coin belongs to the species Cheirurus ingricus that was common during the Ordovician Period. The original, found near St. Petersburg, Russia, spans 8 cm and dates almost 470 million years.
Around 251 million years ago the trilobites fell victim to mass extinction. Although their class survived for c. 270 million years, individual species existed for fairly limited time periods. This makes trilobites important index fossils for the age dating of rock.
More than 15,000 species of trilobites, which were first scientifically described by Johann Immanuel Walch in 1771, are known today. What all of them have in common is the typical tripartite exoskeleton, which gave the trilobite its name. The axial lobe is sub-elliptical and sits centrally between the two flatter sides. Additionally the trilobite body is horizontally divided into three sections, head shield, thorax, and tail shield.
Trilobites usually lived on the sea floor. Their streamlined body indicates that they could move forward swimming.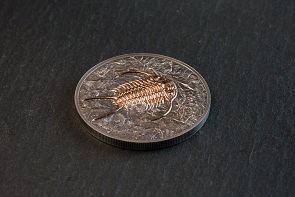 The new smartminting© technology produces an unprecedented relief height on the silver edition of the Tribolite.
Following the first edition in the popular EVOLUTION OF LIFE series, Ammonite, Coin Invest Trust now dedicates the second issue to an equally fascinating organism. The new smartminting© technology produces an unprecedented relief height on the silver edition, which is best seen in a film that Coin Invest Trust made specifically for this purpose.
Of course, we presented the first coin of this series, too.
For more information on this and other coins designed by Coin Invest Trust go to the company's website.
A Guide to the Orders of Trilobites is available here.