[bsa_pro_ad_space id=4]
March 8, 2012 – Palau shows to the collectors, how it is like in the Micronesian state in the middle of the Pacific: blue water, a colourful marine wildlife and romantic sunsets. The Coin Invest Trust has captured this scenery on five silver coins. The clou: the collector decides on the scenery, because you can combine the "dominos" virtually in eternity!
Palau – 2 dollars – 2012 – silver .925 – 1/2 oz. – 27 x 47 mm – Mintage: 1,612 pieces each single coin and 888 pieces of the complete set.
This time the Coin Invest Trust excogitated something really special: A set, whose single coins not only are complementary to each other, but that can be arranged by the collector forming every time a completely new picture as it pleases!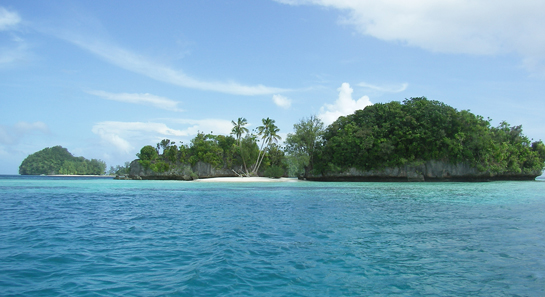 Palau looks really like this: Rock Islands, Palau. Photo: Peter R. Binter / Wikipedia.
The obverses of five silver coins shaped like dominos form an ensemble showing a colourful exotic idyll: a picturesque windjammer beats on the horizon, cragged rocks emerge out of the sea, dolphins scrimmage between squids and corals, on the horizon the sun is to set over the ocean. Many may dream of this, but in the Micronesian state of islands it is nothing uncommon: only eleven out of 356 islands composing Palau are inhabited, most of the others are solitary coral atolls.
The common obverse.
Each reverse of the coins figures a coloured detail of a South Sea image, on the inferior edge a Roman numeral indicates the position in the set (ranging from I to V) and besides is the year of issue ("2012").
The plain obverse shows always the coat of arms of Palau – fittingly it is a marine god with a mermaid. On top is written the name of the issuing state: "REPUBLIC OF PALAU", in the exergue are specified the set's name "ENDLESS PARADISE" and the face value "2 $".
Some possible combinations.
The reverses are artfully designed, in a way that they can be arranged in any order fitting always together. The more coins one arranges, the more possible combinations exist. Thus, putting five coins in line, it is a challenge to try all 120 possible combinations. And yet another set of five coins is in preparation – probably not being the last one. Trying to go through all the combinations, one will understand the name of this series, "Endless Paradise": One will have simply the embarras de richesses of choosing out of 3,728,800 different images of an exotic sunset!
You do not even have to collect coins to enjoy these suggestive combinations of dominos. The very richness of variations is intriguing.
The Mayer Mint strucks the commemorative coins which are available from selected coin dealers.
You can visit the site of MayerMint here.
And that is the web presence of Coin Invest Trust.