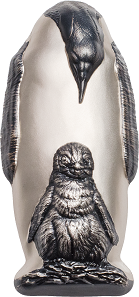 [bsa_pro_ad_space id=4]
June 21, 2018 – CIT Coin Invest AG has designed a silver coin for the Cook Islands and a gold coin for the Republic of Palau that each depicts an emperor penguin. They do not only differ in form and value, but they are also based on slightly different models.
Few other nature documentaries have stunned their audiences like "March of the Penguins" did. Released in 2005, the film won the Academy Award for Best Documentary Feature for its moving depiction of the emperor penguins' mating behavior. The immense hardships that the animals endure when they migrate 200 km upcountry to their colonies, the privations that the male penguins suffer to protect their only egg from the icy winds in their brood pouch for 64 days, the 200 km to the sea that are covered first by the female, then by the male, in order to collect food for the chick have turned the Pmperor penguin into a symbol of parental love for their children.
Cook Islands / 20 dollars / .999 silver / 88 g / 60 mm / Mintage: 888.
CIT Coin Invest AG dedicates its latest three-dimensional silver coin minted with smartminting technology to this love. After Giant Panda (2016) and Sea Turtle (2017), the Emperor Penguin continues the series of animal-featured coin sculptures. Thanks to the most advanced minting technology and a clever finish, the silver has been crafted in a way that imitates the dark coloring of the penguin's back and the white of the penguin's belly without additional color application. Thanks to skillful frosting the penguin's belly, which features a mother-of-pearl shine, even resembles the thick, blubber-layered plumage of the real animal.
Palau / 1 dollar / .9999 gold / 0.5 g / 13.92 mm // Mintage: 15,000.
One year after "March of the Penguins", the animated film "Happy Feet" came into cinemas, turning the penguin drama into a child-friendly comedy. Its protagonist, the penguin Mumble, is alluded to in the latest gold coin of CIT Coin Invest AG's "Special Shapes Gold" collection.
Both coins pay homage to an animal whose exemplary parental love serves as a reminder that caring for one's children while they grow up is a parent's most rewarding experience.
If you want to get a closer look at this coin, watch the video clip that was produced by CIT.
You can learn more about the Coin Invest Trust and especially about the silver emperor penguin coin as well as the gold coin depicting a little emperor penguin coin on the official website.
Of course it is highly recommended to take the time and watch the Oscar-winning documentary "March of the Penguins". However, the National Geographic has also compiled the most important facts about emperor penguins.
And this is the dance clip "Boogie Wonderland" from the movie Happy Feet.