[bsa_pro_ad_space id=4]
March 21, 2013 – Easter is one of the most important celebrations in Christianity. For centuries, eggs and rabbits have been a part of Easter, appearing in forms that range from the traditional to the exclusive. Coin Invest Trust has brought both together with an Easter bunny coin and three magnificent coins inspired by the style of the famed Fabergé eggs.
It's the Easter rabbit coin's unusual shape that really impresses at first glance – that of a crouching Easter rabbit. The front of the coin features the coat of arms of the island nation of Palau, with the nominal value of $1. The back of the coin is smooth, with graphical indentations to accentuate the detail.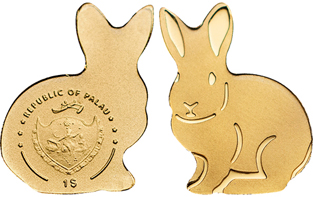 Palau / 1 US-Dollar / Gold .9999 / 0.5 g / 11 mm / Mintage: 15,000.
As early as the last 17th century, a physician stated just how unhealthy it was to eat too many coloured eggs, painted and hidden for children by the Easter rabbit, according to what the little ones in Alsace were told. Where exactly this idea comes from is not clear. In Christian theology, the rabbit was considered a symbol of the Resurrection – not least because of its intense drive to reproduce. The egg was also a sign of eternal life in antiquity. Both elements therefore correspond to the resurrection of Jesus Christ, while the custom itself also fits in wonderfully with the joy of spring. The Easter rabbit later made its way from the German-speaking countries of Central Europe towards North America, where it's more commonly known today as the 'Easter bunny'.
Cook Islands / 5 Ci$ / Silver .999 / 20 g / 38.61 mm / Mintage: 2,500 (each coin).
While the common people were hiding Easter eggs, Czar Alexander III delighted his wife in 1885 with a very special egg he had commissioned. His court blacksmith, Carl Peter Fabergé, created a white enamelled egg with a golden yolk, which in turn had a miniature hen nested within it. The Czarina was so taken with it that from then on, her husband had a new egg commissioned every year for Easter. Coin Invest Trust has taken up this tradition again and issued what is now the third series of Fabergé egg style coins. The smooth front of the egg-shaped silver coins feature Queen Elizabeth II as head of state of the issuing country, the Cook Islands, as well as the face value of 5 dollars and the year of minting, 2013. The backs of the coins are mini masterpieces of Cloisonné work: coloured enamel and gold metal inlays, some of which are complemented by inserted jewels, capture the floral and decorative elements of the eggs created by Fabergé.
Both the rabbit shaped gold coin and the Imperial eggs are minted by B.H. Mayer's Kunstprägeanstalt GmbH and are available for purchase through specialty dealers.
For more information on these new issues please visit the website of Coin Invest Trust.