[bsa_pro_ad_space id=4]
E-Sale 72 Now Online
Roma Numismatics E-Sale 72, held in association with Dutch Numismatic Auction by Agora Numismatiek (Amsterdam), is now online and open for bidding. Roma Numismatics Ltd. hosts this sale jointly with their trusted colleague, and hope that all bidders will benefit from this partnership through the wider selection of material on offer. The sale features 2,033 lots of Celtic, Greek, Judaean, Roman, Byzantine, Islamic and World coins.
This sale opens with a selection of high grade Celtic coins including an extremely rare Ameise type obol of the Boii and a beautiful obol possibly from Noricum.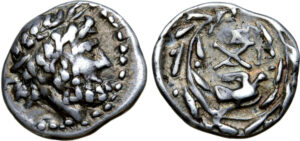 The Greek section showcases coins of excellent pedigree from the collection of Nick Collins. A Messene triobol originally from the BCD collection and sold at Hirsh in 1981, a Phoenician 1/16 shekel from Sidon originally from the Lewis Egnew collection and sold at auction in 1995 join a Sikyon obol also from the BCD collection and originally sold in 1987 as just a few examples from this impressive collection.
An extremely rare Marcus Aurelius bronze from Byzantium in Thrace, one of only four examples listed in RPC, a Geta bronze of Medaba in Arabia of which only two other examples can be found on CoinArchives and a bronze of Julia Maesa from Amastris in Paphlagonia of which no other examples have apparently been offered at public auction in the past 20 years number just three of many rarities in the Roman Provincial section.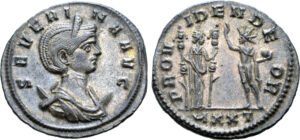 A particular highlight of this sale is the selection of coins from the Brian Henry Grover Collection. Having presented the first part of this distinguished collection in Auction XIX, this second part is notable also for the impeccable quality of each and every piece, excellent provenances and rare types. Coins of particular interest in this collection include an FDC Severina antoninianus acquired from Münzen & Medaillen in 1967 and a potentially unique and unpublished antoninianus of Carinus acquired in 1984.
The Byzantine and world sections both offer desirable pieces for collectors and dealers. A stunning Anastasius I solidus in mint state condition with untouched and lustrous surfaces would be an important piece for any Byzantine collection along with a solidus of the ever popular Irene, depicting the empress on both sides. The world section includes a number of high grade Anglo Saxon coins from the Ken Elks collection and an extremely rare dukaton from the Dutch Republic from 1738.
The sale concludes with the ever popular large lot category which is perfect for new collectors or seasoned buyers looking to boost their existing collection.
Lots will begin closing from 1pm (local UK time) on Thursday 25 June with one lot closing every 15 seconds. There will be no subsequent live session and when the lot closes at the end of the countdown, there will be no further bidding accepted. A 20% buyer's premium will apply to this sale. VAT is applicable to the Buyer's Premium only (not the hammer value of the lots) for UK and EU customers.
Click here to view lots and submit your bids.
E-Sale 71 Results & Invoices, Highlights, and Direct Sale Lots
Roma Numismatics Ltd.'s E-Sale 71 was a big success. 1,722 lots went under the hammer, resulting in total sales of £328,032 (excluding buyers' premiums) being achieved on behalf of the consignors.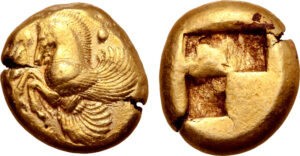 Some notable results
Lot 478: A beautiful Lampsakos stater depicting Pegasos sold for £4,400.
Lot 602: An extremely rare tetradrachm of Artaxerxes III Okhos from the Achaemenid province of Egypt sold for £4,200.
Lot 965: A very rare aureus of Marcus Aurelius as Caesar sold for £4,200.
Honourable mentions
Lot 687: A well struck and centered bronze of Crassus from Cnossos in Crete sold for £1,900 from a starting price of £90.
Lot 793: A rare anonymous quinarius in mint state condition from the Andrew McCabe Collection sold for £1,900 from a starting price of £150.
Lot 1031: A high grade Caracalla denarius from a private European collection sold for £400 from a starting price of £30.
For the full list of results please view the closed sale here.
Coins Available for Direct Purchase
Any lots that did not already sell in the auction are available to purchase at fixed prices on the shop page on the Roma website, corresponding to the opening price plus buyer's premium and VAT. They will be available for a limited time only, and will be returned to their owners once the unsold lot period expires.