[bsa_pro_ad_space id=4]
December 20, 2012 – In the beginning of December Krause Publisher announced the winners in the ten categories of the Coin of the Year Award. Some weeks later the jury has unveiled which of the coins will be the next overall coin of the year.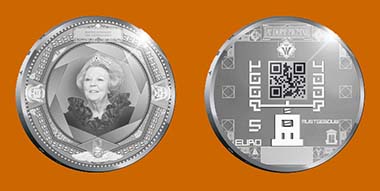 The Coin of the Year 2013 will be a Dutch coin on the 100th anniversary of the Utrecht mint building. Previously the coin was chosen as winner in the category 'Most Innovative Coin of the year'. The coin's pioneering element consists in a barcode engraved for the very first time on a coin. The barcode is scannable with smartphones and leads to a website which provides further information.
We presented the coin here.
You can find all COTY winners in that list.