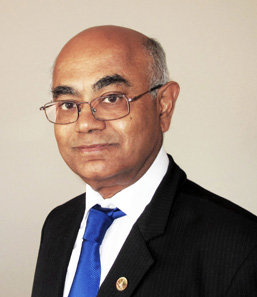 [bsa_pro_ad_space id=4]
June 7, 2018 – After 30 years of service Dr Prabir De has retired from the Royal Australian Mint on 30 May 2018. He is highly respected by his peers in the global minting industry for the breadth and depth of his minting knowledge, expertise and experience. He has decided to offer his services to Mints and Central Banks of the world through his own company Mintmatrix.
After his retirement from the Royal Australian Mint Dr Prabir De continues his business career with his own company Mintmatrix.
Dr De brings solid technical qualifications – Bachelor of Engineering, Master of Science in Machine Tool Technology and Design and PhD in Management Science. His technical background was invaluable to the success of challenging management positions he held in RAM as Director of Operations, Chief Operating Officer and Director of Business Development, Technical and Facilities.
Dr De has also thrived in the global minting industry arena. In 2002, he was elected Chairman of the International Mint Directors Conference (MDC) Technical Committee, a role to which he was re-elected unopposed for the next 14 years.
In his capacity as Chairman, Dr De was untiring in facilitating international research collaboration both within the minting industry and with industry stakeholders. He also actively mentored senior personnel from other official Mints. On retiring as MDC Technical Committee Chairman in 2016, he was made its Lifetime Honorary President. For his contribution to the minting industry, Dr De was also awarded the World Money Fair's inaugural "Innovation" award in February 2017.
Dr De is the consummate minting industry expert. He has an exceptional grasp of technical, operational, management and business imperatives from his three decades in roles spanning the entire minting industry spectrum. He also has the rare ability to provide holistic solutions to address complex and inter-related industry issues such as:
Introducing new series of coins
Coin/note boundary and supply chain
Seigniorage recognition
Establishing and expanding numismatic business through global coin dealer network
Optimising opportunities through bullion coin market
Negotiating and managing high profile commemorative coin projects
Refurbishment and machinery purchases
Reviewing Mints to suggest future directions
Technical advice to build a new Mint
Mentoring and capability development
Depending on the chosen scope, Dr De can offer one, all or a package of some of the above services to Mints and Central Banks of the world.
He can be contacted through company email or on his mobile: +61-419-213-866.
Soon there will be available also a new Mintmatrix website.
We published the full text of a speech of thanks given by Dr Peter Huber to Dr De when receding from the office as President of the Technical Committee at the MDC in 2016.