[bsa_pro_ad_space id=4]
12-01-2018 – 01-01-1970
E-Auction 6
Peus opens new year with e-auction
On January 13, 2018, the 6th Peus e-auction offers a well-balanced range of coins from modern and ancient times.
Lot 204: Sextus Pompey. As, 45 BC, military mint in Spain, moving with Pompey. Dark green patina. Waxed for conservation, almost extremely fine. Estimate: 600 euros.
In the field of ancient numismatics, all epochs and collection areas are covered with 500 lots.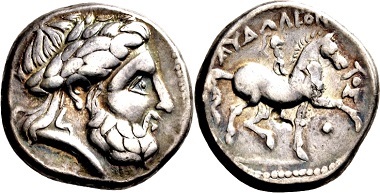 Lot 3: Tetradrachm, Audoleon type, 2nd cent. BC. Delicate blue shimmering toning. Very fine. Estimate: 175 euros.
The selection of Celtic coins from a private collection is particularly wide, but also interesting Greeks and rare Roman coins are on offer.
Lot 309: Antoninus Pius for Faustina I. Aureus 138/141, Rome. Very rare. Edge filed, probably to serve as a piece of jewelry, fine – very fine. Ex Prof. Dr. H. Hommel Collection. Estimate: 600 euros.
85 coins of the Roman Empire come from the scholarly collection of Prof. Dr. Hildebrecht Hommel (Tübingen). The main part of this huge collection will be sold in auction 422.
Lot 791: Karl, 1864-1891. 5 Mark 1877. J. 291. Extremely fine. Estimate: 350 euros.
The ancient coins are followed by 350 lots of medieval and modern numismatics, among which the wide range of German imperial coins in gold and silver deserves special attention.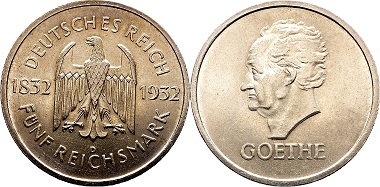 Lot 834: 5 Mark 1932 D, Goethe. J. 351. Extremely fine. Estimate: 1,500 euros.
A complete type collection of commemorative coins from the Weimar Republic offers every collector the opportunity to close any remaining gaps. An observation is worth the auction due to the generally favorable prices in any case.
To view the online catalog, click here.