[bsa_pro_ad_space id=4]
15-06-2018 – 01-01-1970
E-Auction 7
Peus starts E-Auction 7
Dr. Busso Peus Nachf. has opened their 7th e-auction with 549 lots. The sale will be starting on 16 June 2018 at 11 am (CET).
Lot 7: Sicily. Syracuse. Rule of the Deinomenids, 485-465 B. C. Tetradrachm, 474/465 B. C. Good very fine. From German private collection, acquired on 23 December 2016 at London Coin Galleries. Estimate: 1,800 Euro.
The ancient auction contains a small batch of fine Greek silver coins with older provenances. Among the Roman features are some rare and unpublished coins as well as two aurei of Nero. The ancient section is rounded up with combined lots from small private collections and a range of specialist literature.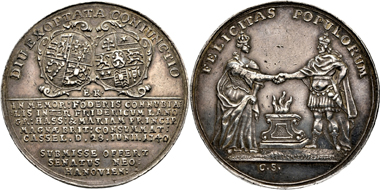 Lot 398: Hesse. Friedrich I, 1730-1751, since 1720 King of Sweden. Silver medal 1740, on the marriage of his great nephew Friedrich (II) with Maria of England. Die by E. Krull. Very fine +. Estimate: 350 Euro.
In the area of world coins, a neat series of VAT-exempt gold coins will be auctioned, which should be of interest to both collectors and investors.
Lot 511: Germany. Duchy of Saxe-Altenburg. Ernst, 1853-1908. 20 Mark 1887. J. 269 Very fine. Estimate: 3,500 Euro.
In the field of coins and medals of the German states, above all, a small collection of silver medals from Hesse and Sweden from the time of the joint personal union must be taken into account. The German imperial coins in gold and silver, including 20 Mark 1887 of Sachsen-Altenburg close a small but noteworthy Internet live auction.
You can find the online catalogues on the Peus website and at Sixbid.