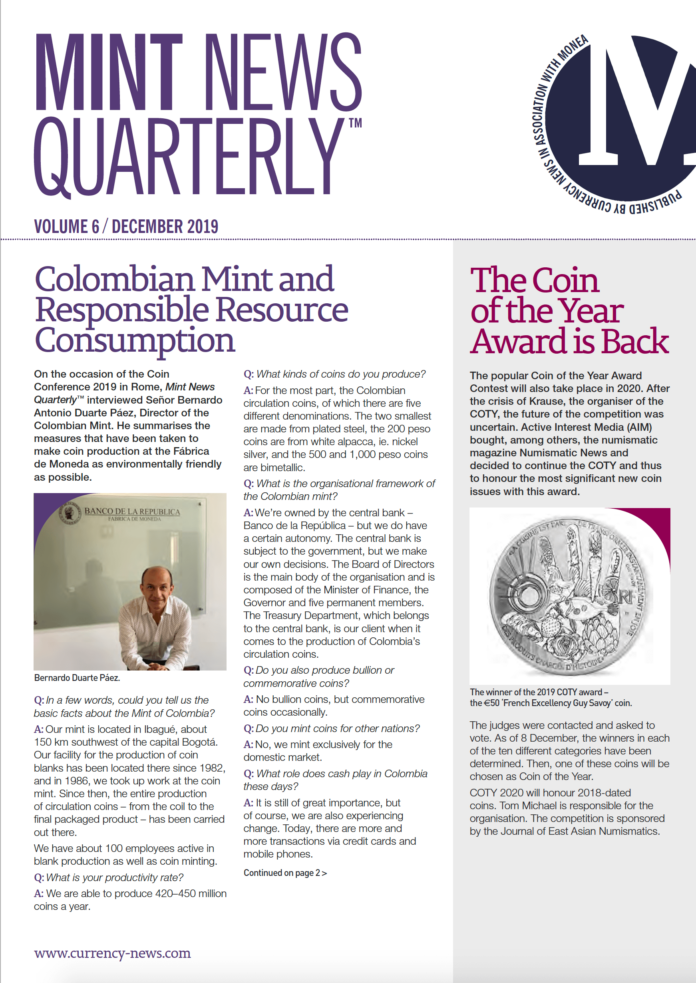 [bsa_pro_ad_space id=4]
Since December 2014, the Ursula Kampmann and her team have been publishing Mint News Quarterly in cooperation with Reconnaissance. The specialist journal focuses on issues relating to the production of circulation and commemorative coins. Daniel Sheffer of M.One / monea initiated the quarterly magazine and ensured its publication by sponsoring it. Due to his activities on an increasingly international market, he saw the necessity to create with Mint News Quarterly a neutral and independent source that talks about the burning questions and urgent problems of the coin industry and reflects on possible solutions. How far-sightedly the journal chooses its topics is perhaps illustrated best by the fact that already the first issue of 2014 dealt with the role of coins as germ carriers.
In recent years Mint News Quarterly, which is posted every three months to central banks and mints around the world along with Currency News, has become an established institution. In addition to M.One / monea, four other sponsors support the publication: H2O, Lang, Sack & Kiesselbach and Spaleck.
Following the wishes of our sponsors, from now on all issues can be downloaded for free.
Here you can download Mint News Quarterly.