[bsa_pro_ad_space id=4]
July 24, 2014 – One of the world's most beloved animated characters, Donald Duck, is set to celebrate his 80th anniversary this year, and to commemorate the occasion, New Zealand Mint has designed and produced a gold and silver coin honouring the popular character under the name of the island of Niue.
It's the second in a collector series of Disney's most cherished and memorable characters to be minted and released globally during the next two years.
The Donald Duck release follows New Zealand Mint's Steamboat Willie collectible coin release from April 2014, which was snapped up by Disney collectors in record time.
The 1 oz 99.9% pure silver and ¼ oz 99.99% pure gold Donald Duck coins have been available to purchase since June 26th, 2014.
Niue / NZD2/ 1oz silver .999/ 40.1mm/ Mintage: 10,000.
Mischievous Donald, famous for his semi-intelligible speech, short temper and heart of gold, is meticulously sculptured on the coin's face wearing his trademark sailor suit and bow tie from his movie debut in "The Wise Little Hen" (1934). The coin's background features a finely engraved relief detailing the house from the iconic film.
New Zealand Mint Chief Executive Simon Harding says generations of Disney fans will appreciate the limited edition '80th Anniversary of Donald Duck' coins.
"It's been an absolute privilege to mint this much-loved duck, one of the many iconic characters created by the late, great Walt Disney. Like many of us, I grew up reading of Donald's antics in Duckburg with his girlfriend Daisy, Uncle Scrooge and nephews Huey, Dewey, and Louie.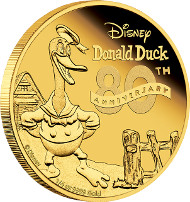 Niue / NZD25/ 1/4oz Gold .999/ 20.6mm/ Mintage: 1,000.
"Donald has been featured in over 128 cartoons, and several animated features, some of which have been recognised at the Academy Awards. He's an icon of the silver screen, loved by many fans all over the world and we expect these coins to be hugely popular," he says.
The commemorative coins are being marketed worldwide, but Harding expects most to be snapped up by American and Canadian Disney collectors.
Issued as legal tender of the South Pacific island nation of Niue, the '80th Anniversary of Donald Duck' coins feature the Ian Rank-Broadley effigy of Her Majesty Queen Elizabeth II, the year-date and the monetary denomination on the obverse.
The coins can be purchased in the New Zealand Mint Shop.
This was the announcement of the NZ Mint about the release of Disney-themed coins.
And if you want to see a Donald Duck movie, click here.
And if you really want to know all about Donald Duck, here is the Disney Wiki.