[bsa_pro_ad_space id=4]
By Leonie Schulze
February 14, 2019 – On January 23rd and 24th, 2019, CashCon 2019 was held at the Dorint Hotel in Frankfurt / Sulzbach. More than 150 bankers, researchers, manufacturers and economists set out for the Taunus region to discuss all aspects of cash.
GS1 Germany and the EHI Retail institute jointly organized CashCon 2019 in Frankfurt / Sulzbach. Photo: LS.
The past, present and future of cash
Cash promises freedom and data protection, but what is the price we have to pay for that? What is the (broader) value of coins and banknotes? How has society's way of dealing with cash changed? What are some of the problems and chances regarding its security and logistics? Those are just a few of the questions that were discussed during the two-day conference. One quickly noticed that two desires became the common theme very early on: preserve proven practices and strengthen ongoing advancements.
The last speaker of the conference, Gerrit Stehle, summarized it best when he pointed out the multitude of subject areas that need to be analyzed when we discuss cash: economy and profitability, politics, the legal framework and all of society, including its feelings and behaviors.
Sociology professor Dr. Klaus Kraemer analyzed the societal function of cash. Photo: GS1 Germany / Jörn Wolter.
The human side of it
Anyone who expected sociology to be a considerable part of CashCon 2019 was bound to be disappointed. Based on one of his own studies, Univ.-Prof. Dr. Klaus Kraemer concluded that most people generally know very little about cash generation, money backing and financial institutions – irrespective of their age, gender, education or income. He did not offer a comprehensive evaluation of these results, however. It was emphasized that familiarity was the number one reason for why cash was indispensable. Money itself, he said, was already a status symbol. And so is a bunch of cash in your wallet.
Prof. Dr. Franz Seitz was the first to emphasize that cash ensures freedom and anonymity. Photo: GS1 Germany / Jörn Wolter.
There was one aspect everyone at the conference seemed to agree on: in terms of anonymity and freedom, cash is unbeatable. After all, the most secure data is never saved in the first place. Nevertheless, this was not an aspect further arguments and suggestions were then based on during the rest of the conference. Undeniably, the focus lay on new business ideas and technological innovations.
Numerous coffee breaks allowed for discussing the latest developments in cash logistics on the market place. Photo: GS1 Germany / Jörn Wolter.
The economic and business side of it
Even though daily news might suggest otherwise: cash is not going to die or be abolished anytime soon. Especially not in Germany. Germans have gained an international reputation of being downright obsessed with their banknotes and coins. Foreign tourists are often left staggered when they realize they cannot pay by credit card at a small café or family-owned grocery store around the corner.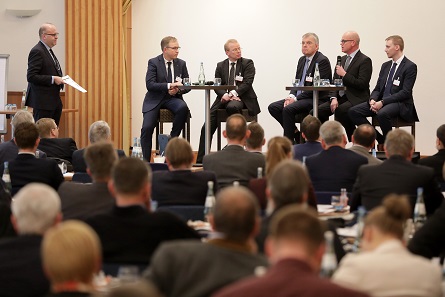 Prof. Dr. Andreas Kaapke took over the role of host and facilitator for most of the conference. Photo: GS1 Germany / Jörn Wolter.
This popularity is accompanied by the respective costs in terms of cash provision and safekeeping. Which is why cash logistics were the pivotal element of CashCon 2019. Wolfgang Kohl presented the online platform Alvara Münzmarktplatz which facilitates the transmittal and ordering of change. Erwin Wetzel reported on the progress of cash and card technology in vending machines and coffee makers. Gerd Grümmer talked about a trial run at four of his Edeka supermarkets where he not only introduced cohesive cash systems, but also made it possible for customers to perform entire bank transactions while shopping for their weekly groceries.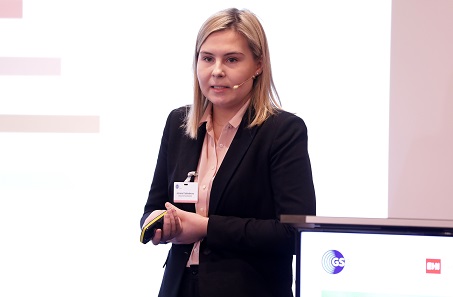 Johana Cabinakova and her colleague Fabio Knümann presented a study conducted by the German Central Bank on the costs of cash transactions in the retail industry. Photo: GS1 Germany / Jörn Wolter.
Profit vs. privacy?
Journalist Dr. Norbert Häring was convinced that there is an international campaign working to abolish cash as quickly as possible. He said, cash primarily signified one thing for credit card companies, banks and various international organizations, i.e. the Financial Action Task Force: namely control and surveillance. Which is why he urged conference attendees to fight the spreading of false narratives and the gradual abolition of cash in order to secure our privacy and freedom.
All of the presentations given in the conference hall and the technology presented on the market place at this year's CashCon offered new ideas and incentives for processual centralization and simplification, efficiency control and reduction of costs in cash logistics. Manufacturers, security firms, banks, and others certainly know how to fill the market niches that evolve based on the comprehensive and incessant use of cash in Germany. The fact that cash will, for now, remain unbeatable in terms of anonymity, user friendliness and freedom was never once questioned during the conference. However, attendees also never lost sight of the profit that can be yielded from the ongoing production and use of cash in Germany, the EU, and the world at large.
More information about the program of CashCon 2019 is available on the event website.
Additional articles on cash and its future can be found in our respective archive section.