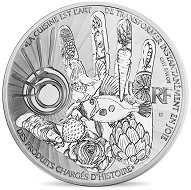 [bsa_pro_ad_space id=4]
February 7, 2019 – The Coin of the Year Award is an internationally conducted program run by Krause Publications to provide recognition of outstanding coin design. The COTY trophies 2019 were awarded at the World Money Fair Berlin, on 2 February 2019.
The "Coin of the Year" is "French Excellency Guy Savoy" by Monnaie de Paris. The 50 euro silver coin commends the excellency in cooking of star chef Guy Savoy as outstanding representative of French cuisine.
From the 10 winners of the first round in different categories the international panel of judges chose the Coin of the Year: the 50 euro silver coin "French Excellency Guy Savoy" from France.
All coins in the contest are dated 2017.
These are the winners:
Most Historically Significant Coin
Austria / 20 Euro silver / 175th Anniversary of the Vienna Philharmonic Orchestra
Best Contemporary Event Coin
South Africa / 2 Rand silver / South African Inventions: The Heart Transplant
Best Gold Coin
United States of America / 100 Dollars gold / American Liberty 225th Anniversary Gold Coin
Best Silver Coin
France / 50 Euro silver / French Excellency Guy Savoy
Best Crown Coin
The Cook Islands / 5 Dollars silver / Scarab Collection: Red Dawn
Best Circulating Coin
Mauritania / 20 Ouguiya Tri-metallic / Camels
Best Bi-Metallic Coin
France / 2 Euro / Bi-Metallic / The Fight Against Breast Cancer
Most Artistic Coin
Austria / 50 Euro gold / The Vienna Schools of Psychotherapy: Sigmund Freud
Most Innovative Coin
Palau / 20 Dollars silver / Great Micromosaic Passion: Birth of Venus
Most Inspirational Coin
United States of America / 2 Dollar silver / Boys Town Centennial Commemorative
Joaquin Jimenez, designer and engraver at the Monnaie de Paris received the Lifetime Achievement Award in Coin Design.
Joaquin Jimenez received the Lifetime Achiement Award in Coin Design. He is a designer, engraver and artist of the Monnaie de Paris.
You can find previous articles on the COTY in our archive and a list of all winners from 1984 to 2014 in Wikipedia.