[bsa_pro_ad_space id=4]
October 10, 2013 – To mark the centenary of the publication of Niels Bohr's atomic theory, Denmark's National bank has issued on 7 October a new series of coins with scientific theories developed by Danish scientists as their common theme.
Niels Bohr and Albert Einstein. The picture was taken at Ehrenfest's home in Leiden, the occasion was most likely the 50th anniversary of Hendrik Lorentz' doctorate (December 11, 1925). Photo: Paul Ehrenfest / Wikicommons.
The series comprises four coins. Niels Bohr is the central person in the series of scientists, which also includes Hans Christian Ørsted, Ole Rømer and Tycho Brahe. They have been selected because their discoveries were ground-breaking at the time.
The four coins are minted in two different values and alloys. All four coins are issued as 500-krone silver coins and as 20-krone circulation coins. In addition, collectors may order 20-krone proof versions.
The motifs on the coins are:
Niels Bohr's atomic model showing the orbit of the electrons around the nucleus – 1913.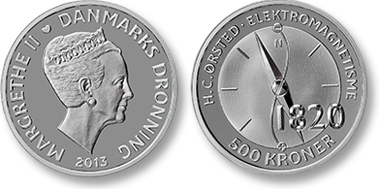 Hans Christian Ørsted's experiment demonstrating electromagnetism – 1820.
Ole Rømer's diagram describing the speed of light – 1675.
Tycho Brahe's constellation Cassiopeia accentuating the star Stella Nova – 1572.
For more information on this series please visit the website of The Royal Danish Mint.
In just 1'14 minute this video clip explains Bohr's model of atom.