[bsa_pro_ad_space id=4]
August 20, 2015 – Degussa Goldhandel AG Switzerland has opened a branch office in Geneva and, with its head office in Zurich, is therefore now represented in the two largest cities in Switzerland. Close to the waterside promenade at Lake Geneva, Degussa will from now on offer its customers the entire range of its goods and services, from investment products such as gold bars and coins to limited-edition plaques and gift products. Safe-deposit boxes in seven different sizes are available in a highly modern depot for the safe storage of precious metals and other valuables – irrespective of whether they were purchased at Degussa.
The new branch of Degussa Goldhandel AG in Geneva. Photograph: © Degussa Goldhandel.
Andreas Hablützel, CEO of Degussa Goldhandel AG says: "For us as the largest bullion dealer in Switzerland, the city of Geneva is an ideal location for our second branch office because of its significance as a financial metropolis, its high internationality and its central geographic position. We see a high potential demand, not only in the area of bullion investment, but also for our gift products such as for example pieces of jewellery, silver pens and our exclusive collection of gold watches."
Hablützel adds that the opening of the new branch office in Geneva is also entirely consistent with the international expansion strategy of the parent company, the Degussa Goldhandel group. The group is now the market leader in Europe and has offices in Germany, Switzerland, London and Madrid. "We are also focusing more on developing global markets, for example in Asia and South America; accordingly a Degussa branch in Singapore will be opening this summer", says Hablützel.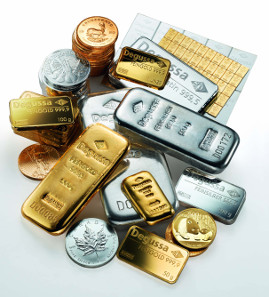 Products of Degussa Goldhandel AG.
Investment bars and coins in gold, silver, platinum, palladium and rhodium are available in a variety of weight categories. A specially designed salesroom in the shop is dedicated to the wide range of gift products and presents the different products clearly. Customers also have the opportunity to purchase special motif bars and limited-edition medals as well as special collections and numismatic coins. Customers can also have their old gold, for example pieces of jewellery that they no longer wear, valued by Degussa experts and if they wish they can sell them directly on-site.
The branch office is located at Quai du Mont-Blanc 5. It is open from Monday to Friday from 09:00 hrs to 17:00 hrs and can be contacted by telephone on +41 (0)22 908 14 00.
For further information, please visit the company's website.
An overview of all Degussa Goldhandel AG branches is available here.