[bsa_pro_ad_space id=4]
May 31, 2018 – Treasury Secretary Steven T. Mnuchin swore in David J. Ryder as the 39th United States Mint (Mint) Director today at the Main Treasury Building. Ryder also led the United States Mint as its 34th Director from September 1992 to November 1993 during the administrations of President George H.W. Bush and President Bill Clinton.
Ryder previously held the position of Global Business Development Manager and Managing Director of Currency for Honeywell Authentication Technologies. Ryder also served as CEO of Secure Products Corporation, which Honeywell acquired in 2007. In addition to his time at the United States Mint, Ryder's prior government service includes appointments as Deputy Treasurer of the United States, Assistant to the Vice President, and Deputy Chief of Staff to Vice President Dan Quayle.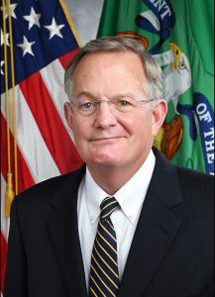 David-Ryder. Source: US Mint.
"It's hard to imagine a better qualified appointee. David has served at the Mint before, he knows Washington well, and he brings to the job more than 20 years of experience in the anti-counterfeiting business. We need his leadership at the U.S. Mint as we confront the growing threat coin counterfeiting poses to the nation," said Philip N. Diehl, chairman of the Industry Council for Tangible Assets.
As Mint Director, Ryder will lead an organization of almost 1,700 people who are employed with responsibilities ranging from securing the assets entrusted to the Mint, to the design, manufacturing, and distribution of circulating, precious metal and collectible coins, and national medals. The United States Mint operates six facilities across the United States: Headquarters in Washington, D.C.; production facilities in Philadelphia, San Francisco, Denver, and West Point; and the U.S. Bullion Depository at Fort Knox.
Ryder was born in Billings, Montana and raised in Boise, Idaho. He attended Boise State University and is married with two children.
For more information about the United States Mint visit their website.
More about David J. Ryder you will find at Wikipedia.
We also reported about the United States Mint regarding their measures against counterfeiters including a statement of David Ryder.