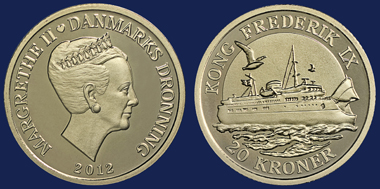 [bsa_pro_ad_space id=4]
June 14, 2012 – On Tuesday 29 May 2012 Danmarks Nationalbank has issued a new 20-krone coin featuring the ferry Kong Frederik IX. This coin is the 11th coin in the series which has ships as the common motif. The motif on the coin is made by sculptor Elisabeth Toubro.
The ferry Kong Frederik IX was built at Elsinore Shipyard. When it was put into service on 16 December 1954 it was the world's largest ferry. It served several routes e.g. between Denmark and Germany and across the Great Belt. In 1997 it was taken out of service and for a few years it served as a museum ferry at Nyborg. In 2005 the ferry was scrapped.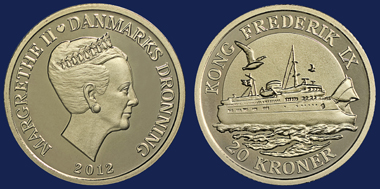 The coin is of the same size and alloy as the ordinary circulating 20-krone coin. The obverse side of the coin carries the portrait of Danish Queen Margrethe II.
The new ship coin has been put in circulation on 29 May. It can be purchased at coin dealers, at Danmarks Nationalbank and via the website of the Royal Danish Mint.
The twelfth and final coin in the series with ships as the common motif will feature a fishing cutter. It will be issued in the autumn of 2012.
You can display an overview of all coins of the Ship coins series here.
This is the new Kong Frederik IX coin.
Original footage material of the ferry Kong Frederik IX when it was still in service in 1991.