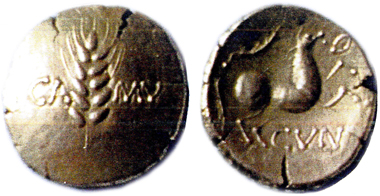 [bsa_pro_ad_space id=4]
by Elizabeth Cottam
February 21, 2013 – Cunobelin was king of the Catuvellauni and Trinovantes c.AD 8-41. Forgers started forging his gold coins while he was still alive. Two millennia later they are now being faked by modern counterfeiters, and have been for the past forty years. So what's new? These fakes are.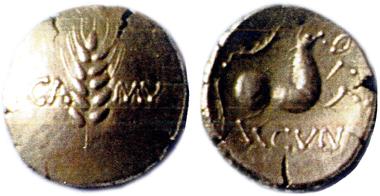 Fake Cunobelin staters.
In the last two years these so-called Cunobelin gold staters and quarter staters began appearing in Britain, Germany and the USA, including some on internet auction sites. The dies don't match any previously recorded by the Celtic Coin Index and were first noticed by Dr John Sills and myself. The coins are said to have been found by a metal detectorist in Suffolk. But this is nonsense. They are unquestionably recent counterfeits, struck for the sole purpose of conning collectors and dealers. I've seen so many now that I feel I must expose this scam.
The fake staters, supposedly a variant of the 'wild type' (see ABC 2777-83), are comparatively easy to spot, when you know what to look for. The flan is too dished; some examples have multiple striking cracks; the base of the corn stalk is very faint; and there is a flat letter O floating in front of the horse's head.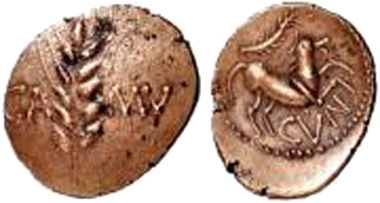 Fake Cunobelin quarter stater.
The dies of the fake quarter staters were clearly cut by the same dishonest hand.
I thank my colleagues for permission to publish their pictures.
To learn more about Chris Rudd Elizabeth Cottam is working with, please click here.
If you want to check out a coin you should visit the website of the Celtic Coin Index.