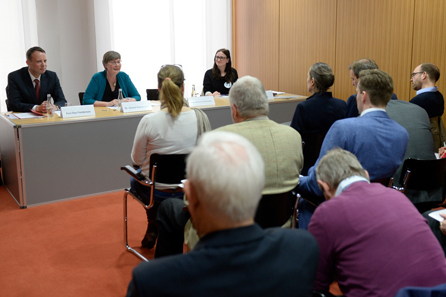 [bsa_pro_ad_space id=4]
April 14, 2016 – 23.2 million Germans collect. That's more than a third of the population. They collect coins (7.7 million), stamps (6.2 million), watches (4.8 million), minerals and fossils (4.1 million), antiquities (3.6 million) and much more.* Each and everyone of these collectors will be affected by the new law on the protection of cultural property.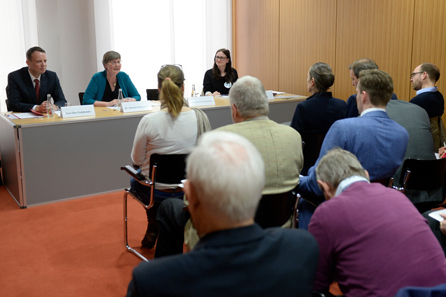 During a press conference at the Federal Press Conference building the petition "For preserving the right to privately collect" was presented. Photo: Maurizio Gambarini.
44,500 citizens have signed the petition "For preserving the right to privately collect". They represent millions of other German collectors, who don't know how much this new law will interfere with their collecting. They demand the following:
No retroactive effect of the law
No reversal of the burden of proof
A clear definition of the term "national cultural heritage"
A limit to claims by the state to "national cultural heritage" only
Free circulation of cultural goods within the EU without bureaucratic obstacles
Appropriate participation by parties representing collectors and dealers in the law-making process
Campaigners chose to use the neutral platform "openpetition" to gather signatures for this petition rather than the German Bundestag's petition platform. This is because the former ensures that personal data of those who have signed will not be passed on to law enforcement agencies. Despite this, many informed collectors either didn't sign the petition or signed it anonymously, not because they don't support the demands, but because they fear that after the law has been enacted, this list of signatures will be used to launch an investigation into the collections of all who supported the petition.
Their reluctance to be identified stems from recent events that have stirred up a climate of fear among collectors: unjustified prosecutions of respectable citizens by law enforcement authorities; the compilation of a secret list of "suspicious" cultural property by the ILLICID project; and unfounded accusations from politicians.
As no member of the Cultural Committee wanted to participate a chair was left free. Photo: Maurizio Gambarini.
The Cultural Committee refused to accept the petition "For preserving the right to privately collect", firstly saying there was not enough time to do so and then questioning its validity, saying that "campaign at www.openpetition.de" couldn't possibly replace "a real petitions process".
A delegation of collectors represented millions of persons affected by the new law. Photo: Maurizio Gambarini.
We ask those responsible to bear in mind that every collector is also a voter. Any new law addressing the protection of cultural property must include realistic due diligence measures for the millions of collectors in the country if it is to be credible.
You can find our petition at Openpetition here.
More cultural property issues are covered by articles in the respective archive section.
* These numbers stem from the following study: "Sammeln: Im Spannungsfeld zwischen Leidenschaft und Kapitalanlage", published in July 2014, conducted by Jens Kleine and Maximilian Jolmes as a cooperation of the Research Center for Financial Services and the Steinbeis-University Berlin.