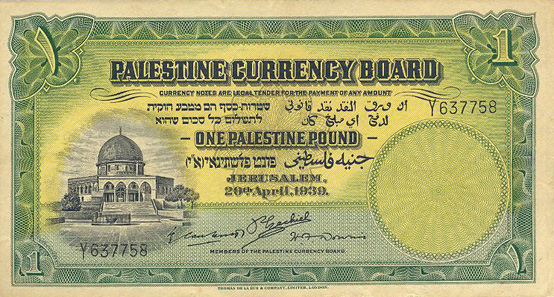 [bsa_pro_ad_space id=4]
by Richard Giedroyc
March 8, 2012 – Following the Palestinian Authority's September 14 2011 announcement that a post office accompanied by distinctively Palestinian stamps was being established the question regarding if a Palestinian currency system perhaps using both coins and bank notes might also be around the corner.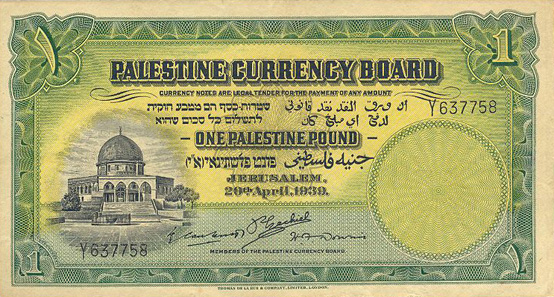 One Palestine pound featuring the Dome of the Rock. Photo: Chesdovi / Wikipedia.
A distinct national currency system and a postal department are each traditional symbols of an autonomous and hopefully well-recognized independent government. With the Palestinian Authority hoping to capitalize on the recently successful Arab Spring revolutions elsewhere in the Arab world, the authority is now asking the United Nations to approve Palestine's own statehood. Land for this new independent Palestinian state would come primarily from Israel, should this become a reality.
Israel, of course, is against establishing such an independent Palestinian state. The United States is caught in the middle politically since on one hand the US wants to encourage democratic governments in countries involved in the Arab Spring revolutions, but also wanting to support its traditional ally Israel.
Postcard sent on Christmas 1899 from Bethlehem to Jerusalem. Source: http://www.stampcircuit.com/NewPHP/ViewImage.php?item=2386562 / Wikipedia.
A postal authority is one thing, but establishing a currency system that will actually function is something else. Keeping it simple, it takes money. Israel is threatening to withhold all tax revenues from the Palestinian Authority if the authority presses the UN for acknowledging Palestine as an independent state. Without this tax revenue income Palestine would have to turn to other countries, likely Arab nations, for funding for backing for any independent currency system of its own.
An additional challenge for an independent Palestine wanting to establish its own currency would be the Oslo agreements of 1994. Through this agreement Israel and the Palestinian National Authority agreed a new Palestine would not issue its own legal tender coins or bank notes. The Israeli sheqel, Jordanian dinar, US dollar, and a mix of Gulf state currencies circulate in Palestine for that reason. The Palestinian Monetary Authority is responsible for this monetary arrangement.
100 Palestine mills of 1929. Photo: Wikipedia.
Coins have been used in what is today Palestine since antiquity. Modern Palestine has a numismatic history of its own dating from the period of the British occupation during the 20th century. Coins of this period are cataloged in the Krause Standard Catalogue of World Coins, while bank notes are cataloged in the Pick world paper money catalog.
Eccentric British coin dealer Jeffrey Hearn issued a fantasy pattern crown in the name of the British Mandate of Palestine in 1955 on which King Edward VIII of England is depicted on the obverse. In 2010 the privately owned Osborne Coinage Company in Cincinnati, Ohio in the United States minted a "State of Palestine" 8-coin fantasy pattern set of coins that raised a lot of eyebrows politically due to the Oslo agreements.
Although it is more likely any independent Palestinian currency system would begin with bank notes, it is metal coins that would give such a currency system the greater appearance of legitimacy. Although bank notes have existed for centuries, it wasn't until the 20th century that coins evolved into functioning primarily as small change. Since coins are composed of metal while bank notes are typically paper the financial backing for such bank notes immediately comes into question, while coins are viewed as having value due to their metal content – even if it may be an inexpensive base metal.
According to the most recent issue of the MRI Bankers' Guide to Foreign Currency, "Israeli and Jordanian currencies are used in the areas under the Palestinian Authority. Apparently notes are ready to be issued once the right conditions are in place. A theoretical Palestinian dinar (=1,000 fils) exists equal to 10 Israeli sheqalim."
Regardless of if Palestine decides to violate the Oslo agreements or not, as an independent nation Palestine would need to seek funding from outside sources for a central bank able to issue its own coins and bank notes. Currently it is more likely coin collectors can anticipate additional fantasy issues being produced by privately owned mints.