[bsa_pro_ad_space id=4]
by Angela Berthold
June 30, 2016 – The team of Corpus Nummorum Thracorum is happy and proud about winning the 2nd place at the Berlin DH Prize 2016. The CNT team cordially thanks the jury for awarding their project; the prize is encouraging them to continue their work!
The jury of this year's Digital Humanities Prize. Photo: Jörg Fischer.
For the second time the Interdisciplinary Research Network Digital Humanities Berlin (ifDHb) awarded the Berlin Digital Humanities prize. Excellent technical and scientific innovative DH projects from the Berlin area were priced. The jury assessed as criteria a pioneering character, a consistent use of technical and conceptual standards and efforts to ensure sustainable availability of the project's results and their connectivity.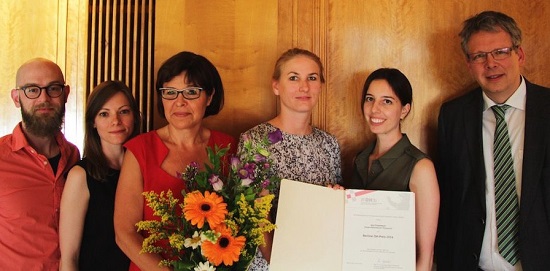 The second place of the Berlin DH Prize was awarded to the "Corpus Nummorum Thracorum" team (Coin cabinet Berlin and BBAW), from left to right: Daniel Althof (BBAW, Telota), Georgia Bousia (BBAW), Dr Ulrike Peter (BBAW), Dr Angela Berthold (Coin cabinet Berlin), Elise Hanrahan (BBAW, Telota), Prof. Bernhard Weisser (Coin cabinet Berlin). Photo: Swantje Bahnsen.
The second prize, worth 1,000 euros, was awarded to the project team 'Corpus Nummorum Thracorum', a cooperation between the Münzkabinett Berlin and the Berlin-Brandenburg Academy of Sciences and Humanities (BBAW). In the honorific speech Gerd Grasshoff highlighted from the jury's statement: 'Provenance, object attributes, repository, content analysis, consistent and systematic attribute description as well as informative and easy to understand information processing are in an exemplary way implemented by the Corpus Nummorum Thracorum.'
Here we presented the new project in detail.
And this is the CNT website.
More information on the ifDHb is available on their website.