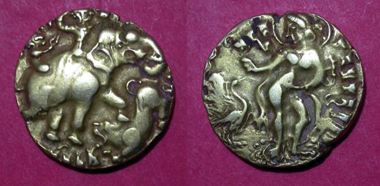 [bsa_pro_ad_space id=4]
August 22, 2013 – On July 2, 2013 a collection of important Indian and World Coins (among others Gupta Gold Seals and Coins, Mughal coins) was stolen in Mumbai (India). This happened in the shop No. 47, Dagina Bazar, Mumbai (India). Marudhar Arts informed in their newsletter about this theft. According to their newsletter it was in the morning of July 2, 2013 that four unidentified Afghan youths entered the shop no 47, at Dagina bazaar, Mumbai and stole a bag containing valuable coins. Within seconds they were chased and one person was caught. However he did not give trail of the other three who are absconding.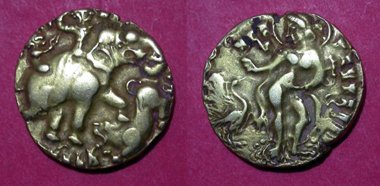 Kumaragupta, Elephant rider, lion trampler, 8.04g, 19mm.
The bag contained an important collection of rare gold coins of the Gupta Dynasty of Ancient India, 33 coins in total;
Silver Rupee, Shahjada Khurram Lahore 1037 AH.
… rare Mughal India coins of silver; gold coins of the UK; several Roman coins; …
Vishakhadatta seal 13x22mm, 8,48g. old Seal, within oval border, Brahmi inscription engraved in reverse of basal: Visakhadattasya.
Chandrasya Seal 10x18mm, 4.60g. Incredible to get a seal of Chandra himself.
Chakradasasya seal 15mm, 1.96g. The servant of Chandra.
Battkasya seal, 50mm, 6,75g. A seal of minister named battaka.
… gold seals of the Gupta dynasty.
If any one comes across these coins or has any information about the same then kindly contact Marudhar Arts, as these are extensively rare coins.
Be cautious in dealing as you may come across and be kind to share the information with Marudhar Arts. As the thieves were of Afghan origin, it is likely that the coins will be offered on the international market.
Any information about their existence will be welcome and handsomely rewarded.
Please contact Marudhar Arts 24×7 at +91-9243145999 or via email.