[bsa_pro_ad_space id=4]
September 5, 2013 – Recently the Japan Mint has issued a 2013 Proof Coin Set dedicated to the '400th Anniversary of Japan-Spain Relations'.
Photo from Japan Mint.
The President of the Japan Mint had the great honour to present this set to His Royal Highness Prince Felipe of Spain on the occasion of the bilateral business meeting held on June 11th, 2013, in the Royal Mint of Spain in Madrid.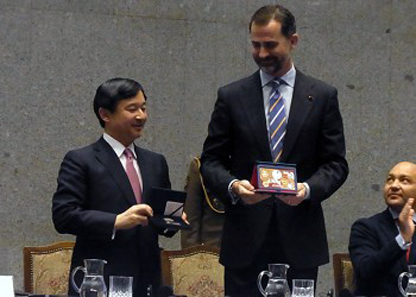 Photo from Japan Mint.
And in return His Imperial Crown Prince Naruhito of Japan received a single coin set from a CEO of the Royal Mint of Spain.
You can find photos of this moment on the website of the Japan Mint.
On the coin set we reported recently.