[bsa_pro_ad_space id=4]
March 14, 2013 – Only two monarchs in British history have ever celebrated a Diamond Jubilee – Queen Victoria and Her Majesty Queen Elizabeth II. This year marks the anniversary of both Coronations, the 175th Anniversary for Queen Victoria's Coronation and the 60th Anniversary of Queen Elizabeth II's Coronation.
Queen Victoria on her Golden Jubilee 1887. Source: Wikipedia.
On 20th June 1837, following the death of King William IV, his niece, Princess Victoria became Queen at the age of 18. Her Coronation was held at Westminster Abbey a year later on 28th June 1837. The Coronation was a massive occasion with 400,000 people pouring into the capital to see the new Queen being Crowned. The ceremony encountered a few hitches with the Coronation Ring being put onto the wrong finger and one of the elderly peers falling down the steps whilst making his homage, but in her journal Queen Victoria called it 'the proudest day of my life'.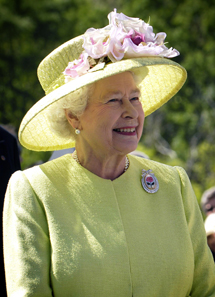 Queen Elizabeth, 2007. Photo: NASA/Bill Ingalls.
Her Majesty Queen Elizabeth II acceded to the Throne on 6th February 1952 following the death of her father, King George VI. Her Coronation took place on 2nd June 1953 at Westminster Abbey, the thirty-ninth Sovereign and sixth Queen to be crowned there. Queen Elizabeth II's Coronation was the first service to be televised and an estimated 27 million people in Britain watched the broadcast (the population was around 36 million at the time). Attended by a total of 8,251 guests, this was an enormous occasion with even the return route to Buckingham Palace being designed especially so that The Queen and her procession could be seen by as many people in London as possible. On 4th June this year a special Service of Celebration is being held at Westminster Abbey which will be attended by Her Majesty and the rest of the Royal Family to celebrate the 60th Anniversary of the Coronation Service.
To commemorate both these amazing achievements, the Isle of Man has approved the release of a superb new coin which carries a double portrait of Queen Victoria and her great, great grand-daughter, Queen Elizabeth II. In addition, the obverse of the coin features a unique double effigy of Queen Elizabeth II. The first effigy is an up-to-date effigy of Her Majesty, while the second is based on a portrait that first appeared on coins at the start of Queen Elizabeth II's reign.
The coin is available in Cupro Nickel, Proof Sterling Silver and also as in Proof Fine 12gm Silver with each precious metal version being produced with a stunning 'proof' finish.
To view this and other coins in the range, please visit the Pobjoy Mint website.
You can read two articles on these queens in our archive. One about Queen Victoria …
and this one describes the reign of Queen Elizabeth II.