[bsa_pro_ad_space id=4]
by Annika Backe
December 22, 2016 – Great art doesn't always need much room but can be found in tiny spaces as well. This is a well-known fact to all coin fans. But not all fans are familiar with such works of art as the ones created by Shaun Hughes from Essex. In hours of engraving, he helps coins – mostly stemming from the U.S. – to turn into something completely new.
After repairing jewelry for 15 years, Shaun Hughes started to embellish coins with floral motifs, like this Lincoln Cent. Either the portrait proper…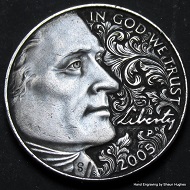 …or the background, as on this Jefferson Nickel.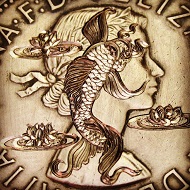 Novel creations come into being when the 53-year-old artist combines great figures of human history with a koi carp.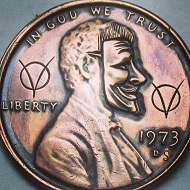 Using state-of-the-art engraving technology and a microscope, he also depicts movie characters, for example, from "V for Vendetta".
And have you ever seen a Star Wars Stormtrooper as this one on a 1 penny 1899?
Fantasy fans are highly likely to appreciate this silver florin of George V.
Presumably something for adults is this Hello Kitty adaption.
This Polish 50 zloty piece catches the eye not only on Halloween.
Even small changes can have a remarkable effect.
Passionate royalists might consider this creation, too, an insult to Her Majesty the Queen.
For this silver dollar 1921 Hughes borrowed elements from the art of M.C. Escher.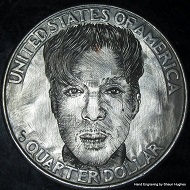 And on this quarter dollar Shaun Hughes commemorates musician Prince who died on April 21, 2016.
With his creations, Hughes stands in the tradition of the "Hobo Nickels". During the 1930s economic crisis, more and more Americans started to redesign coins with often primitive tools. They did this as a pastime or to "pay" for a meal or a place to sleep. Available in great numbers and of a particularly hard surface, the Buffalo Nickel with its Indian head on the obverse was especially popular with the coin carving migratory workers called "hobos".
Today, more and more artists rediscover this art form. And more and more coin collectors become fans and wait eagerly to see what "their" artist comes up with next.
We would like to thank Shaun Hughes for his permission to show photos of his coins.
You can find Shaun Hughes on Instagram and on shaun750.deviantart.
The work involved is shown in these YouTube videos.
Shaun Hughes sells his artworks on eBay.
These are the homepages of the Original Hobo Nickel Society and the Love Token Society.
And the result of "folk art" meeting banknotes is illustrated in this CoinsWeekly article.