[bsa_pro_ad_space id=4]
July 11, 2013 – Egypt's Great Pyramids are one of the world's most beautiful and awe-inspiring sights and an amazing and technically unique coin issue on behalf of the British Virgin Islands brings these amazing structures to life.
The Pyramids at Giza. Photo: Ricardo Liberato. http://creativecommons.org/licenses/by-sa/2.0/deed.en
The Great Pyramid at Giza has stood at the end of the desert, to the west of the River Nile, since the 26th Century BC, when it was built for Pharaoh Khufu (Cheops). Two later kings of the 4th Dynasty – Khafre (Chefron) and Menkaure (Mycerinus) – built pyramids of their own close by and together these three monuments form one of the world's most familiar group of structures. The Great Pyramid stands 137m/450ft high and is constructed of more than 2.25 million blocks of limestone which weigh more than 2.5 tonnes each.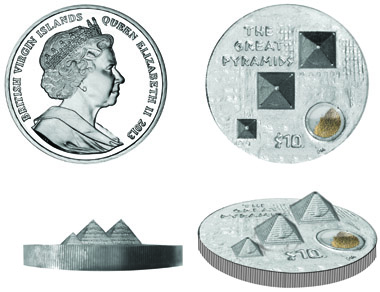 As a tribute to these amazing structures, this stunning new coin has been issued in ultra high relief with the highest point of this amazing coin standing at approximately 4.5mm to 5mm above the main face of the coin. When viewed from the side, the true genius of the coin comes to life, featuring not just the three-dimensional pyramids, but also the flowing sand dunes at Giza that create the irregular desert landscape. In addition, sand brought back by Pobjoy Mint's Managing Director, Taya Pobjoy, from the site of the Great Pyramids has been encapsulated into the coin making this one of the most unique coins in the world.
Available in 1oz Fine Silver, the obverse of the coin carries an effigy of Her Majesty Queen Elizabeth II by Ian Rank-Broadley FRBS. Each precious metal coin has been struck to the highest quality and each coin has been beautifully handcrafted to give this final stunning effect. The coin is presented in a gold coloured triangular box in keeping with the coin.
To view this and other interesting coins, please visit the website of The Pobjoy Mint.
And this is a National Geographic documentary on the pyramids at Giza.