[bsa_pro_ad_space id=4]
11-09-2018 – 01-01-1970
CNG Auction 109
CNG Auction 109 with pedigreed items from renowned collections
Classical Numismatic Group Auction 109, an internet and mail bid sale, will close on Wednesday, September 12, 2018 at 10 am ET. This sale offers 1094 lots with a presale estimate of $2 million featuring Greek, Celtic, Oriental Greek, Central Asian, Roman Provincial, Roman Republican, and Roman Imperial coinage. Additionally, there are featured selections of Coin Dies and Counterfeiting Implements, Byzantine, Early Medieval, Islamic, World, United States, and British coinage.
CNG Auction 109 includes several interesting collections and individual rarities, which make up the majority of coins on offer. Some of the individual highlights from CNG 109 are:
Lot 8
Gorini Plate Coin, Pedigreed to 1954
Lot 8: Lucania, Metapontion. Circa 540-510 BC. AR Nomos (27mm, 7.85 g, 12h). Ear of barley with seven grains; META down left field, grasshopper upward to right / Incuse ear of barley with seven grains; incuse dolphin upward to left. Noe Class V, 104 (same obv. die); Gorini 11 (this coin illustrated, enlarged on p. 137); HN Italy 1472; SNG ANS 207 = Jameson 259 (same obv. die); Gulbenkian 58 = Locker-Lampson 18 (same obv. die); Traité I pl. LXVI, 9 (same obv. die). Good VF, deep cabinet tone, a few scratches, minor die break on obverse. Very rare. Estimated at $5,000.
From the Gasvoda Collection. Ex M. L. Collection of Coins of Magna Graecia and Sicily (Numismatica Ars Classica 82, 20 May 2015), lot 12; A. D. Moretti Collection; Classical Numismatic Group 40 (with Numismatica Ars Classica, 4 December 1996), lot 613; Münzen und Medaillen AG XIII (17 June 1954), lot 998.
From the consignor: The most interesting type of the incuse coinage of Metapontum certainly must be the issues which have the locust (or grasshopper) design detail, as here. There are a number of varieties with the locust/grasshopper detail. Here it is paired with a well-detailed incuse dolphin. The locust would have been a serious threat to the agricultural community and likely the dolphin relates to Apollo who would have been seen as the God who eliminated a plague of these insects in the year this coin was struck. Exceedingly rare with only two examples in CoinArchives.
Lot 33.
Exceptional Pedigreed Velia Nomos
Lot 33: Lucania, Velia. Circa 465-440 BC. AR Nomos (19mm, 8.00 g, 5h). Lion at bay right on double exergue line; A above / Head of the nymph Hyele right. Williams 71a (O54/R50) = C. Kraay, "A mid-fifth century hoard from South Italy" in SNR 66 (1987), p. 29, 1 (this coin); HN Italy 1264. EF, toned. Fine style. Rare. Estimated at $10,000.
Ex Leu 81 (16 May 2001), lot 29; Leu 48 (10 May 1989), lot 25; Leu 2 (25 April 1972), lot 46; 1971 'S. Giovanni Ionico' Hoard (CH IX, 599).
Lot 38.
Ex Elisabeth Washburn King Collection
Lot 38: Bruttium, Kroton. Circa 530-500 BC. AR Nomos (27.5mm, 7.83 g, 12h). Spread incuse type. Tripod, legs surmounted by wreaths and terminating in lion's feet, two serpents rising from the bowl, set on basis of three lines, the center dotted; (koppa)PO to left / Incuse tripod as obverse, but wreaths and serpents in relief. Gorini 4; Attianese 1; HN Italy 2075; SNG ANS 232; SNG Lloyd 592; Bement 272; Dewing 492-3; Jameson 1879; de Luynes 701; Washburn King 19 (this coin). EF, lovely old cabinet tone, minor mark in field on obverse. Well centered and struck. Estimated at $7,500.
From the Gasvoda Collection. Ex CNG Inventory 955015 (June 2013); Leu 83 (6 May 2002), lot 34; Classical Numismatic Group 42 (29 May 1997), lot 83; Elisabeth Washburn King Collection, gifted to Bryn Mawr College, 1951 (Christie's, 11 December 1992), lot 619.
From the consignor: This is an important example to try to untangle the mystery of how these incuse die pairs were created. The die pair seen here was clearly intended to be mated together – notice the top of the tripod being proportionally out of level as an exact obverse/reverse match. Yet the reverse (incuse) die has the tripod slightly larger than the raised obverse. This flaw in compatibility surely caused the dies to wear too quickly as they competed with each other during striking. Were these dies created by hubbing a completed (obverse or reverse die) into a die blank to create the die mate? It seems the only logical explanation.
The Elisabeth Washburn King Collection was made up of 141 Greek coins at the time of her donation to Bryn Mawr College, the collector's alma mater, in 1951. Though modest in size, the quality of the collection was outstanding, featuring excellent examples of many of the most sought out Greek types. The collection was published in its entirety by noted art historian and future curator of classical antiquities at the Boston Museum of Fine Arts, C. C. Vermeule, in 1956, while still a professor at Bryn Mawr.
Lot 289.
Ex Leu 81 'Outstanding Collection', Houghton Collection, and the Susiana Find
Lot 289: Seleukid Empire. Antiochos IV Epiphanes. 175-164 BC. AR Tetradrachm (27mm, 17.08 g, 12h). Antioch in Persis mint. Diademed head right / Apollo Delphios, nude, seated left on omphalos, testing arrow in his right hand, left hand on bow, with three pellets on handle, set on ground to right; AB monogram to outer left, monogram in exergue. SC 1526.4a (this coin referenced and illustrated); CSE 1063 = P. Strauss, "Un trésor de monnaies hellénistiques trouvé près de Suse (2e partie)" in RN 1971, 29 (this coin); HGC 9, 615l. Choice EF, toned. Impressive high relief portrait. Very rare. Estimated at $5,000.
From the MNL Collection. Ex Nomos 6 (8 May 2012), lot 106; 'Outstanding Collection' (Leu 81, 16 May 2001), lot 335; Numismatic Fine Arts XXXI (18 March 1993), lot 333; Arthur Houghton Collection; Münzen und Medaillen AG 37 (5 December 1968), lot 241; Susiana, 1965(?) Hoard (IGCH 1806).
Lot 493.
Very Rare Caracalla Drachm Ex Dattari Collection
Lot 493: Egypt, Alexandria. Caracalla. AD 198-217. AE Drachm (33.8mm, 26.37 g, 12h). Dated RY 21 (AD 212/213). Laureate head right / Caracalla, laureate and wearing military attire, standing facing, head right, holding a spear with his right hand and a globe(?) in his left; on his right, Sarapis standing facing, head left, holding a scepter with his left hand and crowning Caracalla with a wreath held in his right; L KA (date) to left. Köln 2284 var. (position of date); Dattari (Savio) 4053 & 9760 (this coin); K&G 51.16; Emmett 2831A.21 (R3). Nice VF, dark brown patina with traces of green, small spot of hard encrustation before nose, otherwise choice surfaces. Very rare, with only one other specimen sold at auction since 2000 (the Staffieri coin in Triton XXI). Estimated at $3,000.
From the New Orleans Collection. Ex Triton VI (14 January 2003), lot 603; Giovanni Dattari Collection, no. 9760.
Lot 720.
Superb Constans AV Solidus
Lot 720: Constans. AD 337-350. AV Solidus (22mm, 4.61 g, 6h). Thessalonica mint. Struck AD 337-340. FL IVL CON STANS P F AVG, laurel-and-rosette-diademed, draped, and cuirassed bust right / VIRTVS EXERCITVM, Constans standing facing, head left, wearing military attire, holding a trophy mounted on a spear with his right hand and a shield on the ground with his left; a captive seated to either side at his feet, the one on the left with his hands bound, and the one on his right holding his head with his left hand, both are looking upward at the emperor; TES. RIC VIII 34; Depeyrot 4/7; DOC –; Biaggi 2126. Superb EF, small hairline flan crack, traces of underlying luster. An exceptional example. Estimated at $5,000.
From the George La Borde Collection (not in the NAC sales).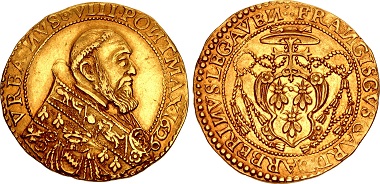 Lot 831.
Gold Quadrupla of Urban VIII
Lot 831: Italy, Papale (Stato pontificio). Urban VIII. 1623-1644. AV Quadrupla (30mm, 13.01 g, 8h). Avignon mint. Dated 1629. Bust right, wearing mantum; below, coat-of-arms surmounted by gallero with tassels / Coat-of-arms surmounted by cross fourchée and gallero with tassels. Muntoni 199; Berman 1782; Duplessy, Féodales 1974; Poey d'Avant –; Friedberg 59. Good VF, toned, lustrous. Very rare. Estimated at $7,500.
Ex 'Importante serie di monete d'oro dello Stato Pontificio' (Numismatica Ars Classica 104, 16 December 2017), lot 549.
2
Lot 931.
Ex Clearwater & Marshall Collections
Lot 931: Stuart. Charles I. 1625-1649. AR Half Pound (33mm, 59.88 g, 5h). Declaration type. Oxford mint; im: plume (with bands). Dated 1643. (plume) CAROLVS : D : G : MAGN : BRIT : FRAN : ET : HIB : REX, Charles, holding reins with left hand and sword in right, on horseback left, trampling arms below; plume to right / EXVRGAT : DEVS : DISSIPENTVR : INIMICI :, RELIG : PROT : LEG/ANG : LIBER : PAR' in two lines between parallel lines; three plumes and X (mark of value) above, 1643 below. Morrieson, Oxford A/1 (same dies as illustration); Brooker Appendix I, 15 (same dies); North 2404; SCBC 2945A. Good VF, toned, small flan flaw on reverse. Excellent metal and strike. An outstanding example. Estimated at $6,000.
Ex Clearwater Collection (Classical Numismatic Group Electronic Auction 312, 9 October 2013), lot 36; Marshall Collection (Spink 167, 31 March 2004), lot 131; Spink Numismatic Circular L.11 (November 1942), no. 16831.
Lot 1023.
Attractive Pedigreed Mary Portrait Testoon Ex Brodie and Dundee Collections
ot 1023: Scotland. Mary. 1542-1567. AR Testoon (29mm, 6.07 g, 2h). Third period, First widowhood. Edinburgh mint. Dated 1561. MARIA DEI GRA SCOTORVM REGINA, bust left; date in tabula ansata below / SALVVM FAC POPVLVM TVVM DOMINE, crowned coat-of-arms; crowned Ms flanking. Burns 4 and fig. 897; SCBC 5422. VF, deeply toned, some light die rust on obverse. Struck on a broad flan. Very rare and iconic type. Estimated at $7,500.
From the Dr. William E. Triest Collection. Ex Spink Numismatic Circular CXI.I (February 2003), no. SH0113; Norman Brodie Collection (Dix, Noonan, Webb, 8 October 2002), lot 58; Dundee Collection (Spink/Bowers & Ruddy, 19 February 1976), lot 203.
Auction 109 includes also something very special: rare ancient counterfeiters' dies from the Gasvoda Collection which is presented seperately in this auction preview.
Printed catalogs for CNG 109 are now available. To order the catalog, please call CNG's U.S. office at +1 (717) 390-9194. Catalogs have been mailed to customers on CNG's active mailing list. Prospective bidders may also view the view the virtual catalog. The sale can be viewed online at CNG or NumisBids.
In addition to Internet & Mail Bid Sale 109, CNG will also feature over 1000 lots from many of the same collections listed above in their Electronic Auction 429, closing two weeks later on Wednesday, 26 September 2018, from 10AM ET (U.S.). Bidding for CNG Electronic Auction 429 will begin on 5 September 2018.
CNG is currently accepting consignments for future auctions sales. Please contact the firm for further details and consignment deadlines.
For further details and any additional information, please contact CNG, Inc. at:
Classical Numismatic Group, Inc.
P.O. Box 479
Lancaster, PA 17608-0479
Telephone: (717) 390-9194
Fax: (717) 390-9978
e-mail