[bsa_pro_ad_space id=4]
March 9, 2017 – In recent years a new line of collector's items has been established: banknotes which are not made of paper, but of precious metals. While usually the items for sale are merely collector's objects without any nominal value, Coin Invest Trust has now issued the first real legal tender silver note. A first that will certainly be followed by many successive issues. In Asia collectors are especially excited about this new line of collector's items.
Skyline Dollars. Photo: © CIT.
The banknotes, minted for the Cook Islands, display a portrait of Queen Elizabeth II resembling her coin portrait, which also functions as certificate of authenticity. The obverse also features the nominal value, 1 Dollar, as well as technical information, i.e. silver content, weight, mintage, size, and year of issue.
Skyline Dollar: London. Photo: © CIT.
The colourfully designed reverse of each of the series' five issues depicts the skylines of the world's great metropolises – New York City, Sydney, London, Toronto, and Hong Kong, …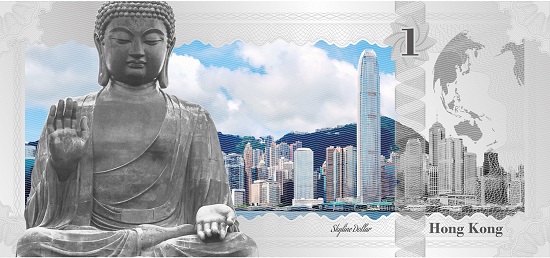 Skyline Dollar: Hong Kong. Photo: © CIT.
… each completed by the city's world famous landmarks.
Skyline Dollar: Toronto. Photo: © CIT.
For each banknote at the nominal value of $ 1, measuring 150 mm by 70 mm and only an incredible 0.045 mm thin, 5 grammes of fine silver have been processed.
Skyline Dollar: Sydney. Photo: © CIT.
CIT were the first to create a fusion of metal value and legal tender with this new series.
For further information please visit the Coin Invest Trust website.