[bsa_pro_ad_space id=4]
May 3, 2018 – A dragon on a coin: The extraordinary Giant Girdled Lizard, a dragon-like lizard species home to South Africa, is depicted on CIT's newest coin. This issue will be this year's contribution to the CIT series "Shades of Nature".
Cook Islands / 5 Dollars / silver .999 partially gilded / 25g / 38,61mm / Mintage: 2,000.
CIT Coin Invest has issued its latest coin in the "Shades of Nature" series. For the first time it is dedicated to a reptile, more precisely to a lizard, the Giant Girdled Lizard, whose Latin name "Smaug giganteus" is a relatively recent invention. The lizard received its name in 2011 only. It was inspired by South-African-born J.R.R. Tolkien's fictional dragon Smaug.
A fitting choice, considering that the lizard, not entirely dissimilar to a dragon, is native to South Africa. Biologists hope that the renaming of the reptile, which is on the Red List of Threatened Species, will attract more public and media attention so that the necessary funds can be raised in order to preserve the species, which is also popular with terrarium-owners, in the wild.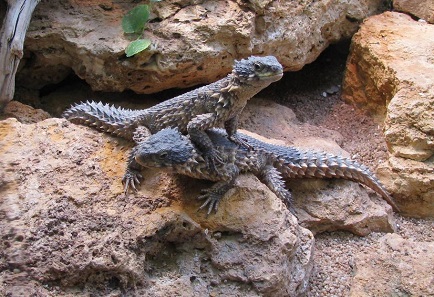 Two Giant Girdled Lizards in the open. In South Africa, these lizards are also called sun-gazers since they spend a lot of time in the sun. Photo: Cymothoa exigua / cc-by 3.0.
A characteristic feature of Smaug giganteus are its large, keeled, pinnacle-shaped spines. These are perfectly realized on the coin thanks to the patented smartminting technology, which renders the depicted animal incredibly vivid. The effect is produced by combining a high relief with a proof-like finish on even the tiniest surfaces of the spines. Thanks to a special surface treatment in combination with the highest minting quality "proof", B. H. Mayer mint succeeded in carving out even the smallest spines in detail.
The lizard's high relief plastically stands out from the correspondingly designed background, whose gilding further visually highlights it. This coin is thus very special not only in its theme but also with regards to the minting technology.
You can find CIT's website here.
Find here the coin's relief.
This video explains how Giant Girdled Lizards live and what led to their endangerment.
Last year's issue in the "Shades of Nature" series was the Hummingbird, as this article shows.