[bsa_pro_ad_space id=4]
April 5, 2018 – On behalf of the state of Palau, CIT Coin Invest AG has continued the series "Ounce of Luck". Latest smartminting technology has permitted to create for the very first time a coin in shape of a four-leaf clover.
Palau / 5 Dollars / 1 oz. Silver .999 / 38.61 mm / Mintage: 2500 pcs.
How better to wish a beloved person good luck than with a four-leaf clover? For all those, who would rather revert to giving everlasting silver, CIT initiated the "Ounce of Luck" series in 2010. While all previous issues featured a real, small four-leaf clover, in the year 2018 the coin itself has been transformed into a cloverleaf thanks to the latest smartminting technology, a cloverleaf whose design was only possible with the most complex minting technology.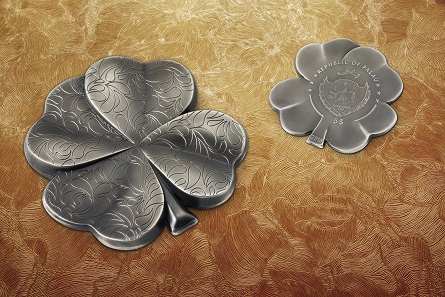 The new four-leaf clover coin combines two characteristic features: a very high relief and most delicate features on the surface.
Under maximum minting pressure a blank, produced specifically for this issue, is turned into a little artwork which combines two difficult-to-unite components: The incredibly high relief, only made possible by smartminting technology, and the most delicate features of a lavish ornamental surface, which curves like a real cloverleaf. Only by holding this cloverleaf in your own hands can you fully appreciate the finesse of the artful minting technique applied here.
The coin is minted by B. H. Mayer's Kunstprägeanstalt, Munich.
Further information on the coin are available on the CIT website.
To learn more about smartminting, watch this film made in-house by CIT.
Do you prefer to add to this coin a real four-leaf clover as present? Read in this Wiki how you may find one outdoor.