[bsa_pro_ad_space id=4]
by Ursula Kampmann
translated by Annika Backe
November 26, 2015 – Between October 21 and 23, 2015, the Coin Conference took place in Madrid. In seven sessions, topics revolved around circulating coins. Logistics, security, cost efficiency, progress of cashless payment and sustainable mint management were at the center of attention. CoinsWeekly gives a brief summary of the lectures presented during the conference.
In the third part, we report on the latest security features for circulating coins and the companies' social responsibility for both environment and employees.
Stuart Wilson, The Royal Mint. Photograph: Reconnaissance.
Session 4: New security features
Stuart Wilson, The Royal Mint: Leading the global fight against counterfeiting with cutting-edge security solutions
Stuart Wilson presented The Royal Mint as partner for central banks in the process of balancing production costs, on the one hand, and security and durability of a coin, on the other hand. The speaker saw great potential in the fact that many countries still use expensive non-ferrous metal alloys for their coin blanks. The price of this material having increased on the commodity market, the profit gained from replacing a denomination by a more modern and more counterfeit-proof variant – galvanized coin blanks made of stainless steel are a particularly good option here – could be used to fund the monetary reform.
Stuart Wilson pointed out that, in the department of covert security features the pricy high-tech approach is not necessarily the most efficient solution, especially for extremely durable coins. The coins designed to last a long time, counterfeiters have the chance to improve their forgeries over the course of decades anyhow. The main goal, therefore, is to find the ideal compromise between security, durability and cost efficiency.
In one of the final parts of his presentation, Stuart Wilson introduced the security features currently applied by The Royal Mint: the overt security features, which are easily recognizable to the user, include shape, edge lettering and other kinds of working done on the edge, latent images, bi-color or bi-metallic coins, micro-lettering and fine engraving; the covert security features, on the other hand, which the user cannot see, include electro-magnetic signature as strictly defined as possible, alloy additives, and other security features detectable by sensors.
Gerd Wagner, Reischauer. Photograph: Reconnaissance.
Gerd Wagner, Reischauer: New secure coins in PM-Stainless Steel – a feasibility study
Many interesting aspects were addressed by Gerd Wagner who introduced a completely new technology which makes it possible to determine the electro-magnetic signature of plated coins with steel blanks accurately and counterfeit-proof. To achieve that goal, it takes powder-metallurgy: the coin is no longer punched from the coil but produced individually from metal powder through pressing and sintering. This method allows mixing different kinds of steel to the effect that a blank generates a unique and counterfeit-proof electro-magnetic signature. It also becomes possible to produce ready-made blanks which allow minting coins with a higher relief in pre-defined areas than hitherto possible with blanks produced in the traditional way. Such coins may feature a particularly high edge or a high-relief central motive. As for coins minted from noble metal, the new technology is already practice approved. As for circulating coins, a feasibility study is currently conducted. Representing the vending industry, Klaus Meyer-Steffens of Crane Payment Innovations is involved in the development, as is Dr Georg Veltl of the Fraunhofer Institute for Manufacturing Technology and Advanced Materials IFAM.
Eugenio Gomes, Fabrica Nacional de Moneda y Timbre. Photograph: Reconnaissance.
Eugenio Gomez, Fabrica Nacional de Moneda y Timbre: New Security Measures for Minting Circulating and Commemorative Coins
Eugenio Gomez reported on progress in the area of latent images on commemorative coins. He pointed out that the latent image serves two purposes. It is not only aesthetically pleasing to the eye, but also acts as a security feature which every user of a coin can recognize immediately.
Using latent image technology, the Spanish Mint is now capable of producing all sorts of effects. Apart from the 'usual' latent image which exhibits different images depending on the viewing angle, it is now also possible to create a kind of motion effect, for example.
The latest development in latent image technology is the creation of a latent image which, when viewed from four different viewing angles, exhibits four distinct images. To achieve this effect, the four images are engraved on the four sides of a tiny pyramid by laser engraving. This technology has been patented already.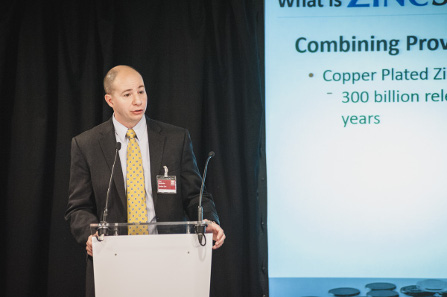 Carl DelSorbo, Jarden Zinc. Photograph: Reconnaissance.
Mark Blizard and Carl DelSorbo, Jarden Zinc: Plated Zinc Materials. Enhanced Security –
Proven Technologies
Carl DelSorbo presented the successfully tested ZincSecure technology. With this technology, it is possible to create a highly precise electromagnetic signal which is very hard to imitate by counterfeiters. For 34 years now, copper-plated zinc coins produced with this technology are in circulation. Since 2005, this method is also applied to zinc-copper-bronze, and since 2006 for zinc-copper-nickel as well. The wear effect on the EMS is marginal.
Furthermore, Carl DelSorbo stressed the good coinability of blanks produced with ZincSecure, the circulating coins' corrosion resistance and wear resistance. And he did not forget to mention the good cost efficiency when looking not at the nominal costs but the actual costs for an emission.
Session 5: A mint's corporate, environmental and social responsibility
Sirpa Kuusirati, Mint of Finland: Towards ISO26000 Standard
In the previous years, the Mint of Finland has acquired a number of different certificates. Since 2014, it implemented ISO26000, attempting to heighten its employee's awareness of social responsibility. It is a step in a continuous improvement that has started as early as 2009 when ethical guidelines for the company were approved by the Board of the Mint of Finland. According to the content of ISO26000, a new core subject is addressed every six months until, in 2018, the standard, if possible, will be fully integrated throughout the organization. After all, ISO26000 is no certificate in the traditional sense, but more of an approach to deal properly with complex issues.
These are the core subjects of the new norm:
organizational governance,
human rights,
labor practices,
environment,
fair operating practices,
consumer issues,
community involvement and development.
Sirpa Kuusirati took the current topic 'human rights' to illustrate how this complex topic may be broken down to everyday experience. Firstly, it takes an awareness of problems to develop responsibility with due diligence. Looking at the complex chain from raw material to the final product: Are there any areas of conflict affected? Does one's own consumption, one's own product harm the environment? Does the supply of raw materials harm people, and are they affected by the production process or the final product? Are there children involved at some point in the value chain? Is there an existing culture of corruption? Do all the people involved in the production enjoy legal protection at their working place? Is the greatest security possible ensured, for everyone involved? The questions aim at revealing potential conflicts in order to avoid any direct or indirect complicity. A crucial aspect here is how a company deals with grievances. Can the applicant rely on clear and known procedures in transparent governance structures?
It is only when all these questions have been asked that the actual problems can be addressed.
Implementing ISO 26000, the Mint of Finland is hoping to gain a clear competitive advantage. According to Sirpa Kuusirati, a company benefits from acting responsibly in that it increases its prestige and becomes more attractive as an employer for skilled personnel.
Scott Hutchings, Global Coin Solution: Mixed Currency Donations: Supporting Charities around the Globe through Repatriation
Scott Hutchings focused on a very distinct aspect of cash logistics: How to deal with the small change from the most diverse nations? More and more airlines invite their customers, when they leave a foreign country, to take care of the useless cash for them and give it to charity. Collecting boxes at airports all around the world serve the same purpose.
An average collecting box contains 88 different currencies. In 2014, Global Coin Solution dealt with a total of 129 different currencies of which a major share was repatriated, albeit with high transportation costs. Global Coin Solution specializes in the repatriation of these different currencies to their country of origin and hence gaining the best proceeds possible to donate them for a good cause.
Sean Byrne, Royal Canadian Mint: SM&RT Non-Cyanide Brass and Bronze for Coins
The Royal Canadian Mint is another organization which takes its social responsibility very seriously. A vital part of it is the Mint's role as an identity-establishing institution which, thanks to its commemorative coin series, brings the Canadian society closer together.
Furthermore, RCM considers it important to cover as large a part as possible of the demand for coins with specimens that already exist. As a matter of fact, only 8 % of the annual coin demand is minted. Efficient cash logistics provides the tool for this.
The currency conversion to coins made of galvanized steel made it possible to recycle nearly 12,000 metric tons of non-ferrous metals. What is more, the Royal Canadian Mint has developed a technology that does not require cyanide anymore.
Sean Byrne concluded his presentation by stating that social responsibility is of the utmost importance to the Royal Canadian Mint.
The final part of presentations held at the Coin Conference, addressing cost efficiency and public relations, will be published in next week's issue.
This is the link
for the conference attendees to download most of the speakers' PowerPoint presentations.