[bsa_pro_ad_space id=4]
September 8, 2016 – For Mongolia Coin Invest Trust now dedicates a numismatic monument to Chinggis Khaan. Unlike the 2014 issue, which attracted much attention due to the colour application to its relief field, the current issue in gold and silver was minted with the new smartminting© technology, which doubles the relief height and produces an unparalleled sharpness.
Mongolia / 1000 Togrog / Silver .999 / 1 Ounce / 38,61mm / Mintage: 1000.
The obverse shows the coat of arms and the name of the issuing nation as well as the nominal value, the material and fine content.
The reverse features the half-length portrait of Chinggis Khaan, plus the inscription CHINGGIS KHAAN in Latin and Mongolian letters.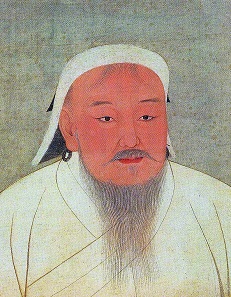 Chinggis Khaan, portrait dating from the 14th century.
Chinggis Khaan, ruler of the Mongols, continues to fascinate people until this day. He was born a Temujin, a "blacksmith", presumably the son of a tribal leader in 1155. Temujin was confronted with death early on in his life, when his father was poisoned while travelling. Being involved in many battles while growing up, he made the decision to unite his people at age 20. His mission succeeded partly thanks to clever diplomacy, partly due to brutal raids.
With proverbial iron discipline Temujin moved his troops across Asia as far as modern-day Iraq. In 1206 he received the name Chinggis Khaan, "universal ruler" or "ruler of the world". He must have died in 1227, aged 64, after he took a spill from a horse. At this moment in time, his empire stretched from Korea to Poland and from China to Persia. It would last another two generations until it fell apart again.
The coins were minted by B. H. Mayer's Kunstprägeanstalt GmbH. Collectors can purchase the issues through specialty dealers.
Please find more information on these coins here and here.
This is the website of Coin Invest Trust.
And here you can watch a BBC documentary detailing the life of Chinggis Khaan.