[bsa_pro_ad_space id=4]
Chinese Patterns Leading Stack's Bowers Hong Kong Auction
Stack's Bowers and Ponterio continues to deliver world class sales of quality numismatic material and realize impressive prices, despite the challenging and unprecedented circumstances of the year 2020. The firm's incredible Hong Kong series of auctions clearly demonstrates the firm's success, as their colossal 10th anniversary auction in May 2020 shot past expectations and shattered records, despite a two-month postponement due to the global pandemic. The recently completed October auction contained the greatest number of lots Stack's Bowers and Ponterio has offered to date in a Hong Kong auction, with over 4,600 lots presented over seven sessions. An impressive 94% of the lots were sold and the total prices realized exceeded $11.5 million, illustrating the firm's continuing growth within the Asian market. (All prices include the buyer's fee.)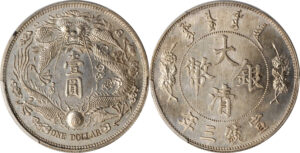 Chinese patterns, from both the later empire and the early republic, were the top performers, with numerous highlights realizing incredible prices. Leading the way was the single finest certified legendary "long-whisker" pattern dollar from year 3 (1911) of China's final emperor, that sold for $456,000. Additionally, a Yuan Shih-kai pattern dollar from year 3 (1914) of the republic was bid to a total of $348,000.
A superb undated (1897) gem Heaton mint pattern 20 cents from Kiangnan brought $84,000, a cyclically-dated (1907) "interlocking wave" edge pattern dollar achieved $90,000, a lovely year 3 (1911) pattern half dollar attained $264,000, and a highly coveted year 16 (1927) Sun Yat-sen "mausoleum" pattern dollar sold for $102,000.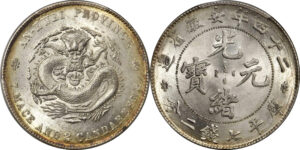 Among circulation strike provincial issues – another area in which high grade, attractive examples remain popular – a top population "Old Kiangnan" dollar reached $276,000, while an immaculate Szechuan dollar brought $216,000. A sensational Anhwei dollar sold for $168,000, an extremely rare, Superb Gem Chekiang 50 cents realized $138,000, and a fabulous Chihli (Pei Yang) dollar sold for $96,000.
The resounding strength of the sale wasn't limited to early Chinese silver issues, as other areas, such as modern Chinese strikings, proved the firm's versatility. A massive gold kilo 10,000 yuan from the Panda series brought $66,000, a 15 ounce gold "vault protector" medal – reminiscent of a Tang dynasty cash coin – achieved $40,800, and a Qing dynasty gold 10 tael ingot, also attained $40,800.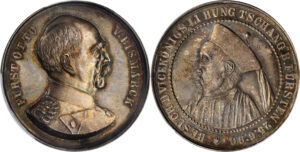 Chinese medals and tokens reflected a widening of the market, as the Stack's Bowers and Ponterio offering of gaming tokens from Szechuan, performed well overall. Among these pieces, this rare issue brought a spectacular price of $38,400, 25 times its high-end estimate. A beautifully preserved German medal featuring Otto von Bismarck and Chinese viceroy, Li Hung Chang, sold for $33,600, while an incredibly rare medal celebrating the famed "Queen of the Peking Opera," Mei Lanfang, achieved $12,000.
Non-Chinese issues from around the region continued to increase in popularity and value, as shown by this 1867/6 overdate Hong Kong dollar, that was bid to $20,400 – five times its high-end estimate. At the same time, popular series like the iconic British Trade Dollar (which circulated throughout Southeast Asia), proceed on a seemingly unending upward trajectory.

In the paper money session, Chinese notes attracted a good deal of interest, as this late imperial 1909 5 dollars fetched $19,200. A People's Republic 1950 50,000 yuan, attained $10,200, and a Chinese Puppet Banks specimen 5 yuan sold for $20,400. These great results carried over to notes from the entire region, as a beautiful Hong Kong 50 dollars realized $21,600, and a top population 50 gulden from the Netherlands Indies led the paper money portion of the sale when it was bid to $40,800.
For complete prices realized for the Stack's Bowers and Ponterio October 2020 Hong Kong auction visit the website. The firm is accepting consignments to their January 2021 auction (an officially sanctioned auction of the New York International Numismatic Convention), as well as their next Hong Kong auction, set to take place in April 2021. Contact them via email or 800-566-2580 to speak with a numismatic expert.