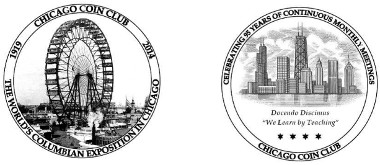 [bsa_pro_ad_space id=4]
July 3, 2014 – A medal commemorating the 95th anniversary of the Chicago Coin Club features historic past and present cityscape images of Chicago. The iconic Ferris Wheel from the World's Columbian Exposition is displayed on the medal's obverse and a modern view of the Chicago skyline from Lake Michigan will be featured on the reverse.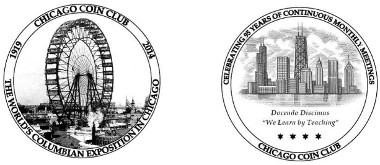 The new medal commemorating the 95th anniversary of the Chicago Coin Club. For technical details, see text below.
The medal will be die-struck in satin finish copper, .999 silver, and .999 gold with the two inch medal containing 2.55 oz. of silver and over 4 oz of gold. The reverse will feature the inscription "CELEBRATING 95 YEARS OF CONTINUOUS MONTHLY MEETINGS" along with the club's motto "Docendo Discimus – We Learn by Teaching". The limited edition medals will be edge numbered and marked for fineness.
Pre-orders are being taken, and will be available at the ANA World's Fair of Money in August.
The number of silver and gold pieces struck will be equal to those pre-ordered. Satin finish Copper mintage will be a minimum of 100, or a small number over the number preordered, whichever figure is larger. Each individual medal will be packaged with a printed history of the medal and the Chicago Coin Club design.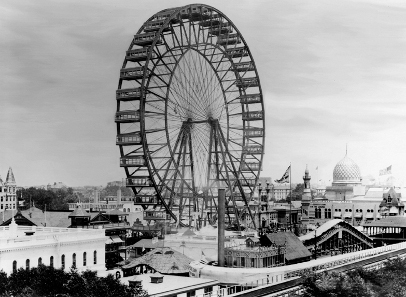 The original Ferris Wheel at the 1893 World Columbian Exposition in Chicago.
The Chicago Coin Club is a not-for-profit organization dedicated to numismatics. Monthly meetings are held in downtown Chicago. The club looks at all facets of the hobby, including U.S. and international coins, primitive money, paper currency, checks, other printed notes, tokens and medals. The club was organized in 1912 as American Numismatic Association Branch Club No. 1, and was re-organized under its current name in 1919.
The Chicago Coin Club is honored to be the host club of the American Numismatic Association 123rd Anniversary Convention, August 5-9, 2014. The Club published a numismatic reference book and issued numerous medals, replicas of primitive money, and souvenir sheets of banknotes of Chicago.
In addition to issuing the anniversary medal, the Club will host a Banquet Meeting on Wednesday, August 6th, at the Rosewood Inn 9421 W. Higgins Road, Rosemont, IL. Below are artists' renditions of the Chicago Coin Club's 95th Anniversary Medal.
For additional information about the club or to see some of their past works, visit their Website.