[bsa_pro_ad_space id=4]
The annual Chicago International Coin Fair (CICF) is part of the expanded 2022 annual convention of the Central States Numismatic Society (CSNS). There will be special dealer sections dedicated to ancient and world coins and world banknotes at next CSNS convention, 27th-30th April 2022, in the Chicago suburb of Schaumburg, Illinois.
"Some dealers from Europe and Asia were not able to attend the New York International Numismatic Convention this past January because of the pandemic. We are ready to assist overseas dealers and collectors with arrangements for participating in the 2022 CSNS-CICF convention," said Central States Numismatic Society Convention General Manager Larry Shepherd.
As an incentive, dealers from Asia, Canada, Europe, and Latin America can get a 20 percent discount on table fees for the 2022 convention.
"The 4+ stars Renaissance Hotel at 1551 Thoreau Drive in Schaumburg and the adjoining state-of-the-art convention center are conveniently located just 22 kilometers from O'Hare International Airport, one of the largest and easiest-to-access airports in the world. The clean and modern hotel rooms, transportation, and food costs are quite reasonable compared to New York and other major U.S. cities," he explained.
"With about 400 dealers' tables and an expanded exhibit area, this will be the largest CSNS show since the late 1980s. The convention is home to the Professional Currency Dealers Association and as well as the former Chicago International Coin Fair, and the Professional Numismatists Guild will conduct a PNG Day on 27th April 2022.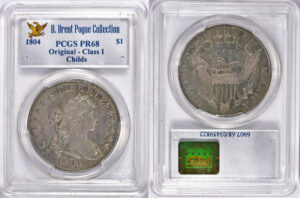 One of the exhibits will feature four of the most famous United States rare coins with a combined face value of only US$1.16 (€1,05) but insured now for US$19 million (€17,228,250). Displayed together for the first time, the "Big 4" coins include the finest 1804 Draped Bust dollar, the Sultan of Muscat example, PCGS PR68, that has rarely been seen since 1998. It was originally presented as a diplomatic gift by a U.S. State Department representative to the Sultan of Muscat (the capital of Oman) on behalf of President Andrew Jackson in 1835. The three other coins in the exhibit hosted by GreatCollections Coin Auctions will be the finest of five known 1913 Liberty Head nickels, PCGS PR66; one of the finest known of nine 1894 San Francisco Mint Barber dimes, PCGS PR65+; and a wrong planchet error 1943 bronze Lincoln cent, PCGS AU58.
Professional Coin Grading Service is the Official Grading Service for the Central States Numismatic Society. Official auctions will be conducted by both Heritage Auctions and Legend Rare Coin Auctions in conjunction with the convention.
For further information visit the website of the Central States Numismatic Society.
An application for dealers' booths and hotel booking instructions can be found online.
The CSNS Convention Manager Larry Shepherd can be contacted by email.