[bsa_pro_ad_space id=4]
by Ursula Kampmann
translated by Annika Backe
June 30, 2016 – On June 25, 2016, Chester L. Krause died as a result of a hard fall he had taken in February 2016. With him, the numismatic world loses a man who has shaped the daily lives of collectors until the present day.
Chet Krause in his own office, shortly before his death. Photograph: Krause Publications.
Chester – or, as his friends used to call him, "Chet" – was the first to recognize that a nation such as the United States of America, where many collectors lived far removed from metropolitan areas, needed other kinds of media. He responded and published journals, price guides, entertainment – not only in the field of numismatics.
The parental home in Iola, Wisconsin, where Chet prepared his first Numismatic News issues. Photograph: Krause Publications.
Chester L. Krause was born as the youngest of six children in Helvetia, Wisconsin. Like his father, he earned his livelihood by building houses before the War brought him to Europe at the age of 19. He served as an auto mechanic with the 565th Anti-Aircraft Artillery Batallion and was one of the soldiers who were confronted with the horrors of the Buchenwald concentration camp when he was redeployed there on the afternoon following the liberation.
In 1946, Chet was released from the Army and returned to Iola to build houses. A devoted coin collector, he was disturbed by the isolation in the small town where no other coin collectors were living. This gave him the brilliant idea to publish a journal for people sharing the same destiny: Spanning one page and measuring 28x43cm, the first issue of Numismatic News was released in October 1952. In the first year, it was a money-losing business, with a loss of $1,342 and an address list of 600 subscribers. This, however, was soon to change.
Chet compares the first issue of his Numismatic News with the one dating from January 5, 1959. Photograph: Krause Publications.
Numismatic News was getting increasingly bigger and more voluminous. And in 1957, Chet concluded his career as a constructor with the building of his own new office that was to remain the premises of Krause Publications before it could no longer accommodate the more than 400 employees for lack of space.
After all, the empire of collectors grew. A crucial step was the recruitment of Clifford Mishler as co-editor of Numismatic News in 1963. With his help, the Standard Catalogs of World Coins were published since 1972 that are referred to as KM for Krause-Mishler throughout the world.
At that time, Chet Krause long established publications for other fields as well, to not depend solely on the coin market. Eventually, Krause published 53 journals and periodicals. They covered not only coins, currency notes and stamps but also antiquities, art, vintage cars, comics, weapons, memorabilia, and toys. At times, more than 100 books were released by Krause Publications. In 1999, eBay chose Krause Publications as publisher of its official eBay magazine.
Iola owes a lot to Chet Krause. At some point, town marketing referred to Iola as "Coin Collectors Capital". Photograph: Krause Publications.
Small Iola – with a current population of 1,300 (and falling) – hugely benefited. In 1971, Krause Publications had released a periodical on vintage cars. In 1972, owners of such vintage cars came to Iola for the first time, in the context of a charity event. This provided the nucleolus for "one of the biggest and best" vintage car shows and swap meets, spread out over 1.2 square kilometers of exhibition space and attracting several tens of thousands of visitors.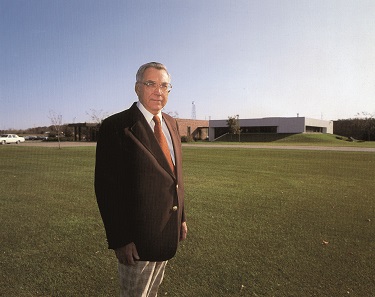 Chet Krause in front of his new business premises in the mid-1980s. Photograph: Krause Publications.
Chet Krause was always known for his philanthropy. A major share of his fortune he invested for the good of numismatics and for his fellow citizens in Iola. When he retired from business at the age of 63, in 1988, he founded what is known in the U.S. as ESOP (= Employee Stock Ownership Plan). His company became a stock corporation of which every employee who had worked for it for a minimum of one year was given shares he or she could sell to the company with the onset of the pension. In 2002, however, a number of the most important shareholders decided to sell Krause Publications to a group of investors.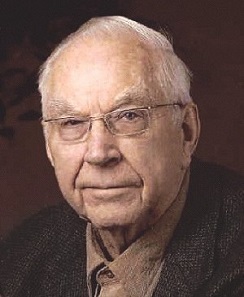 Chet Krause. Photograph: Krause Publications.
Even after retiring from business, Chet Krause continued to be an active member of the numismatic community. When the American Numismatic Association came under financial pressure in 2007, the 83-year-old volunteered right away to bring the institution back on track again, in his capacity as member of the "Board of Governors".
Chet Krause's survivors do not include any children, but seven nieces and nephews as well as more than a dozen grand-nieces and grand-nephews. The numismatic community shares their grief for a man who did not only have good ideas but put these into practice. Who always had the community in mind and supported what he considered worth supporting. We mourn for a patriarch of numismatics who, without any academic training but only through his activities, has made a much greater impact than countless researchers.
Please find the official obituary here.
You may also express your sorrow at the death of Chet Krause online.
A very personal obituary written by Dave Harper you may read here.
A very good contribution on the life of Chet Krause was published in the blog of Bob Lemke.
Information on Krause Publications is available here.
Wikipedia provides Chet's biography on its Spanish site only.
If you want to read a detailed account of Chet Krause's time in the Army, please click here.
Chet has also published his autobiography which you may order here.
If you want to learn more about the Iola Car Show, please visit the website.