[bsa_pro_ad_space id=4]
August 17, 2017 – For the Cook Islands CIT has produced a silver commemorative coin on the theme of the Cherry Blossom Festival. Each of the 2017-pieces limited edition coins is presented in an upright position within a snow globe. Handcrafted in the longstanding tradition of the Vienna Snow Globe company of the Perzy family, the globe is filled with pink petals which float around the couple in embrace.
Cook Islands / 1 Dollar / Silver .999 / 1/10 oz / 18mm / Mintage: 2017.
The obverse features the Ian Rank-Broadley portrait of Elizabeth II, also her name, the name of the issuing nation, and the nominal value.
The reverse shows a couple in embrace with a dog next to a cherry tree with pink blossoms as well as the year of issue.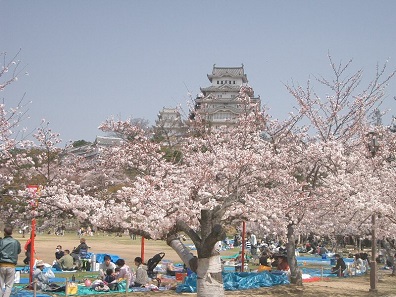 Hanami picnics in the front of Himeji Castle, Japan. Photo: Miya.m / Wikimedia Commons / CC BY-SA 3.0
With this creation CIT takes up the Cherry Blossom Festival, Hanami, which is becoming increasingly popular outside of Japan as well. Between the end of March and the beginning of April, people get together in parks for a picnic and "flower viewing". This tradition, which seems to date back to the 8th century, celebrates the beginning of spring and the transience of the cherry trees (Sakura). In Japan the delicate, fragrant cherry blossoms are also a traditional symbol of feminine grace and beauty.
Cherry Blossom Globe.
Not just the theme but also its framing carries a lot of tradition. Each of the glass spheres from the manufacturer Vienna Snow Globes run by the Perzy family is handmade and filled with pure Alpine water. Company founder Erwin Perzy (1876-1964) was actually trained as a mechanic for surgical instruments. To amplify the light emission of the newly invented carbon filament lamp, he experimented with a water-filled bowl. When he added semolina for light reflexion, he noticed how beautifully and waterfall-like it sank to the ground. The snow globe was born.
This film by CIT best illustrates how successfully the Cherry Blossom Globe fuses the traditional with the modern.
The coins were minted by B. H. Mayer's Kunstprägeanstalt GmbH. Collectors can purchase the issues through specialty dealers.
Please find more information on these coins here.
This is the website of Coin Invest Trust.
In this article in The Telegraph, you will find "Everything you need to know about seeing cherry blossom in Japan".
And on YouTube, you can watch a report on the Japanese Cherry Blossom Festival.